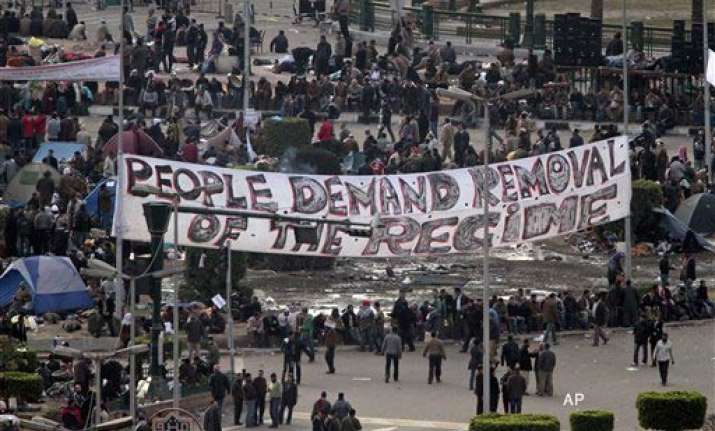 Cairo, Feb 3 : Firing from assault rifles targeted anti-government protesters in the Egyptian capital's Tahrir Square today apparently from supporters of the embattled President, killing at least six people as violence escalated just a day before the opposition's proposed massive rally on Friday to oust .
Still reeling from Thursday's attack in which Mubarak supporters charged into the square on horses and camels, the opposition protesters were fired upon from a bridge near the square, killing three people on the spot, to bring the death toll to six in the last 24 hours.
The protesters refusing to quit from the Tahrir Square, which has become a hub of 'Down Mubarak' campaign, were fired upon at 4 am this morning and opposition spokesman claimed that violence was being unleashed by a force of paid thugs and plain clothes police to crush an unprecedented nine-day-old movement.
Witnesses reported at least three bodies being carried away in ambulances and said gunfire rained into the square from at least three directions and that the military deployed heavily did not intervene.
Pitched battles were also reported between pro-and anti-Mubarak groups for the control of a high vantage overpass leading to the square.The clashing groups also hurled rocks and bombs at each other.
The fighting between the groups erupted 12 hours earlier as pro-Mubarak supporters charged with whips into the protesters, while others rained fire bombs and rocks from rooftops.
Soldiers ringing the square from all sides with tanks and armoured carriers fired occasionally in the air throughout the night but did not otherwise intervene.
The violence came after a beleaguered President went on air on Tuesday to say that he would not stand for re-election in September, but refused to quit immediately, triggering an ultimatum by the protesters setting Friday as a deadline for him to step down.
Mubarak, 82, has been in power since 1981. The unceasing violence has witnessed a sharp escalation of attacks on Western media men, which has come in for strong condemnation by the US Secretary of State Hillary Clinton and Western governments. PTI