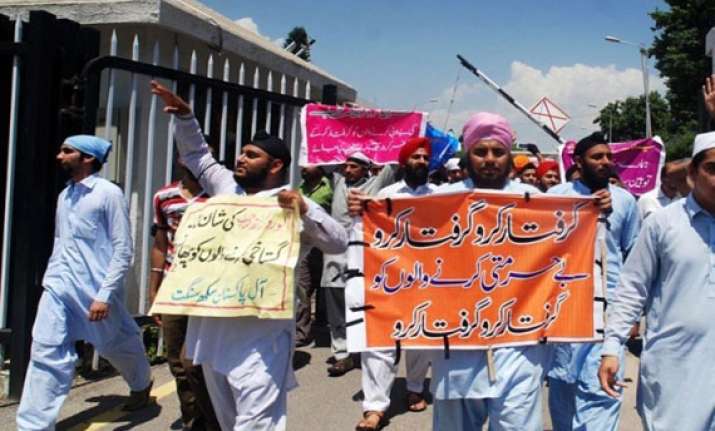 Islamabad: Dozens of Sikhs today protested outside the Pakistan National Assembly condemning attacks on gurdwaras in this Islamic country.
The protesters, from Sindh and Khyber Pakhtunkhwa provinces, gathered outside parliament to protest against alleged desecration of Holy Guru Granth Sahib in Shikarpur.
A large number of Sikhs live in Sindh province. The protesters alleged that there has been a spate of attacks on gurdwaras in Pakistan.
The protesters entered the grounds of Parliament wielding sticks, but were stopped by policemen.
They demanded police protection and registration of all Sikh gurdwaras in Pakistan. The protesters also demanded installation of CCTV cameras for surveillance and security.
Ruling Pakistan Muslim League (Nawaz) MP Syed Zafar Ali Shah and Ramesh Kumar met the protesters and promised security.
Leader of the House in the Senate, Raja Zafarul Haq has spoken to Chief Minister Sindh Qaim Ali Shah, asking him to provide protection to the Sikh community and their places of worship.