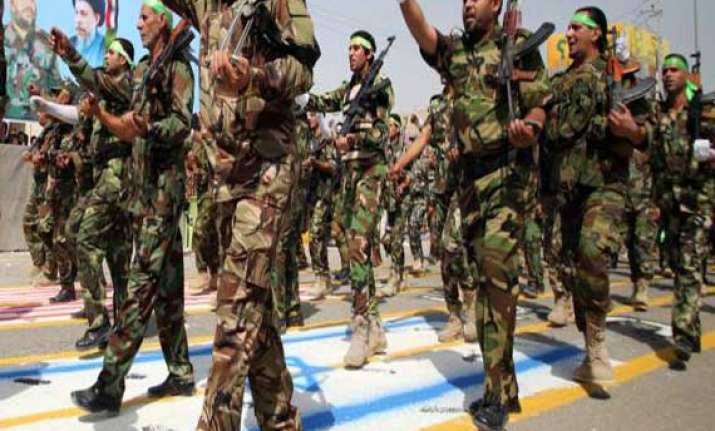 Baghdad: Thousands of heavily-armed Shiite militiamen paraded through several Iraqi cities today as Sunni militants seized two strategically located towns in what appeared to be a new offensive in western Anbar province. 
The capture of the two towns - Qaim on the Syrian border yesterday and Rawah along the Euphrates River on today - dealt another blow to Prime Minister Nouri al-Maliki's government, which has struggled to push back against Islamic extremists and allied militants who have seized large swaths of the country's north, including the second-largest city of Mosul.  
But while al-Maliki has come under mounting pressure to reach out to disaffected Kurds and Sunnis, the display of heavy weapons by the Shiite fighters indicated that forces beyond Baghdad's control may be pushing the conflict toward a sectarian showdown.
Militants have controlled the city of Fallujah in Anbar and parts of the provincial capital of Ramadi since January.  The vast Anbar province stretches from the western edges of Baghdad all the way to Jordan and Syria to the northwest.  In Baghdad, about 20,000 men, many in combat gear, marched through the Sadr City district with assault rifles, machine guns, multiple rocket launchers, field artillery and missiles. Similar parades took place in the southern cities of Amarah and Basra.
The parades were staged by followers of Shiite cleric Muqtada al-Sadr, who once led a powerful militia that battled US troops and was blamed for some of the mass killing of Sunni civilians during the sectarian bloodletting that peaked in 2006 and 2007.
Police and army officials said the al-Qaeda breakaway Islamic State of Iraq and the Levant, along with allied militants, seized Qaim and its crossing, about 320 kilometers west of Baghdad, after killing some 30 Iraqi troops.  
The officials, who spoke on condition of anonymity because they were not authorized to talk to journalists, said people were now crossing back and forth freely.  Chief military spokesman Lt. Gen. Qassim al-Moussawi acknowledged Qaim's fall, telling journalists that troops aided by local tribesmen sought to clear the city of "terrorists."
The mayor of Rawah, Hussein AIi al-Aujail, said militants captured the town today. The local army and police force pulled out when the militants took control, he said.  Sunni militants have carved out a large fiefdom along the Iraqi-Syrian border and have long traveled back and forth with ease, but the control of crossings, like the one in Qaim, allows them to more easily move weapons and heavy equipment to different battlefields.