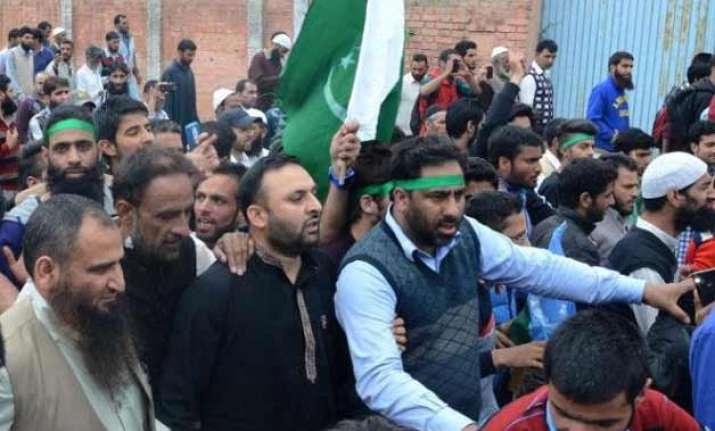 Islamabad: Pakistan on Thursday said people waving its national flag on the streets of Srinagar is the "manifestation of deep and lasting emotional bonds" between the Kashmiris and the Pakistanis.
Reacting to pro-Pakistan slogans and flags being waved at a rally addressed by hardliner Syed Ali Shah Geelani against whom an FIR was registered for "unlawful" activity, Foreign Office spokesperson Tasnim Aslam said it was a regrettable move.
"What we witnessed yesterday (Wednesday) on the streets of Srinagar is the manifestation of the deep and lasting emotional bonds between the people of Kashmir and the people of Pakistan," she said in response to a question.
Aslam asserted that India chose to use excessive force against peaceful demonstrators exercising their right to peaceful assembly.
"We believe that the charges against the Kashmiri leadership are bogus and illegal as India does not have any legal right to demand allegiance to India by the people of Kashmir who belong to a disputed territory and whose final settlement according to UN Security Council resolutions is yet to happen," she said.
Pakistan was concerned at the constant violations of Kashmiris' fundamental rights and remained steadfast in principled stand of extending full moral, political and diplomatic support to them, Aslam said.
She added that Pakistan has expressed concern about the violations of the Line of Control (LoC) and the Working Boundary in the past also and raised it with India through different bilateral mechanisms in place.
"We have brought it to the notice of the UN Secretary General and the Security Council. We have also pointed out to the international community that at a time when Pakistan is in the decisive phase of its counter-terrorism operations, this kind of aggression on its eastern border would distract us and this is in no one's interest," she said.
To another question, Aslam said that Pakistan's bilateral proposal to India of a Strategic Restrain Regime (SRR) remained on the table since 1999 without a positive response.
"The SRR consists of three interlocking elements of nuclear and missile restraint, conventional balance and conflict resolution. It is important to view the situation in South Asia in a non-discriminatory and neutral manner and support Pakistan's efforts for stability and lasting peace in the region," she said.