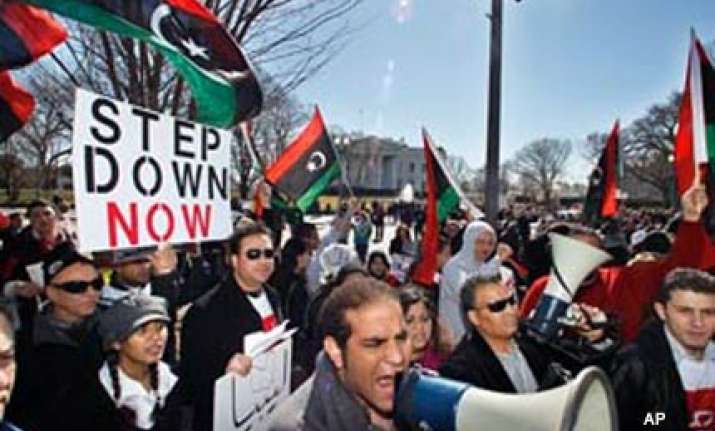 Cairo, Feb 21 : Libya's anti-government protesters took control of several cities in the north African country but came under a brutal crackdown in capital Tripoli where Violence claimed scores of lives today, amid reports that Muammar Gaddafi has fled the country.
As the violent suppression of protests came under criticism, even from figures within the government, security forces used fighter jets and live ammunition on protesters in Tripoli.Al Jazeera said at least 61 people were killed today in what some witnesses described as a 'massacre' at a huge anti-government rally.
Lines of communication were cut off by authorities as they seek to suppress the revolt against Gaddafi's 41-year-old regime, as the protests that started from the eastern city of Benghazi reached Tripoli for the first time.
A growing number of figures from the regime defected in protest, even as state TV reported that Libyan security forces had launched an operation against what it called "dens of terrorists". Some reports said that military aircraft had fired at the protesters in Tripoli from the air.
Human Rights Watch had put the figure of dead at least 223 earlier in the day, but some other international rights groups said there could be up to 400 dead in the unrest.
As calls from around the world grew loud for restraint, 68-year-old Gaddafi's son pledged to fight the revolt to the "last man standing", warning protesters that Libya was neither Tunisia nor Egypt.
"We will keep fighting until the last man standing,even to the last woman standing ... we will not leave Libya to the Italians or the Turks," Saif al-Islam Gaddafi said.
As people in the capital joined protests for the first time after days of violent unrest in the eastern city of Benghazi, he appeared on television and said that the regime will not back out even to the last bullet.
As the crackdown intensified, Libya's justice minister Mustapha Abdeljalil resigned in protest to "the excessive use of force" while a senior Libyan diplomat in China and Libya's Ambassador to India also quit in protest.Several Libyan diplomats at the United Nations joined calls for Gaddafi to step down, and some accused the Libyan leader of carrying out genocide against his people.
Deputy ambassador Ibrahim Dabbashi said on that Gaddafi Kadhafi has "declared war" on the Libyan people, and added that the mission staff had written to Gaddafi, asking him to step down.Libya's senior diplomat in China Hessein Sadiq al Musrati, who stepped down and called on all diplomatic staff to resign, also said that Gaddafi "may have left Libya".
British Foreign Secretary William Hague said Gaddafi may be heading to Venezuela, citing "information that suggests he is on his way." Venezuela however denied that Gaddafi was on his way to the south American nation with government sources quoted as having said "no contact" has been made with him or his administration.  
Anti-government protesters took to the streets of Tripoli, in a revolt that started from Benghazi, where Gaddafi's grip has traditionally been weaker.Al Jazeera reported that tribal leaders too spoke out against Gaddafi, while some army units defected to opposition.Protesters appeared to be largely in control in the coastal city of Benghazi, where government buildings were set ablaze after security forces were forced to retreat.
Meanwhile, other reports said that two Libyan fighter jets with four military personnel on board reached Malta,having fled the Benghazi air base that was taken over by
protesters.
As the situation worsened in the country, the US asked all its non-essential staff to leave Libya. Washington also advised its citizens to avoid travelling to the country.Meanwhile, international outrage grew over the bloodshed in Libya.UN cief Ban-Ki-moon asked Gaddafi to bring to an end the "escalating violence" in the country and expressed concern over the use of force against peaceful protesters.
European Union foreign ministers in Brussels criticised the Libyan government and condemned "the ongoing repression against demonstrators in Libya and deplores the
violence and death of civilians".French President Nicolas Sarkozy also criticised what he called the "unacceptable use of force" in Libya and called for an "immediate halt" to violence.
The US, meanwhile, said it was considering all options in response to the crackdown launched on protesters, hours after Gaddafi's son appeared on national television and pledged to take the fight "to the last man standing".British Prime Minister David Cameron, who is visiting Egypt, termed the crackdown "appalling". PTI