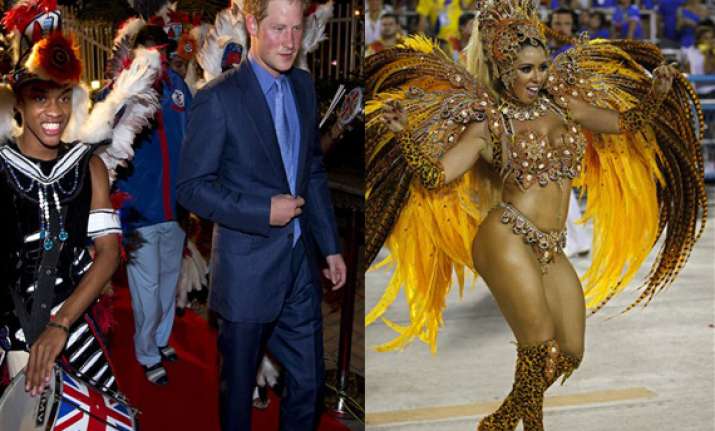 Rio De Janeiro, Mar 10: Samba dancers swathed in orange ostrich feathers welcomed Britain's Prince Harry to a party on Rio de Janeiro's Sugarloaf Mountain on Friday. And apparently the fancy footwork was contagious.

"Everything about Rio makes you want to dance," the prince said in a brief speech to guests at the hilltop soiree, who included the creme de la creme of Rio's elite as well as a smattering of British expats. "I'm just glad my brother's not here because he might actually do it."

Harry, the younger brother of William, the Duke of Cambridge, was the main draw at an event sponsoring Britain's "Great" PR campaign that promotes investment in the island nation, which is host for this summer's Olympic Games.

Rio Mayor Eduardo Paes, whose city is hosting the 2016 Olympics, escorted the prince throughout the evening, pointing out city landmarks and spots where Olympic events are to be held.

"It's going to be mad, but it's going to be wonderful mad," Harry told Paes as the two stared over the moonlit Guanabara Bay, staring out at glinting future Olympic venues.

"We hope we'll follow the British punctuality to deliver everything here on time," the mayor told guests in a speech, an apparent reference to delays in Brazil's preparations to host the 2014 World Cup tournament.

The prince, fresh off a trip to the Caribbean that saw him challenge premier sprinter Usain Bolt in Jamaica, toured the installations on Sugarloaf with dogged good humor, stopping to admire exhibits promoting British science, technology and fashion.

Sweating profusely in his suit, the prince glad-handed a select group of local and British celebrities including model Lily Cole.

"We have a good mutual friend, so it's a bit surreal meeting him under these circumstances," said Cole, who was in Rio for the first time.

Members of the Beatles-themed Carnaval troupe Sargento Pimenta serenaded Harry, pounding out "A Hard Day's Night" to a noisy "batucada" drum beat as the crowd boogied enthusiastically.

The 27-year-old prince arrived in Rio de Janeiro early Friday from Jamaica after earlier stops in Belize and the Bahamas on a Diamond Jubilee tour in honor of his grandmother, Queen Elizabeth II, as she celebrates 60 years on Britain's throne.

On Saturday, Harry was scheduled to visit one of Rio's hillside slums, teach tag-rugby and take beach volleyball lessons. He planned to go to Sao Paulo state on Sunday to take part in a polo match for charity.