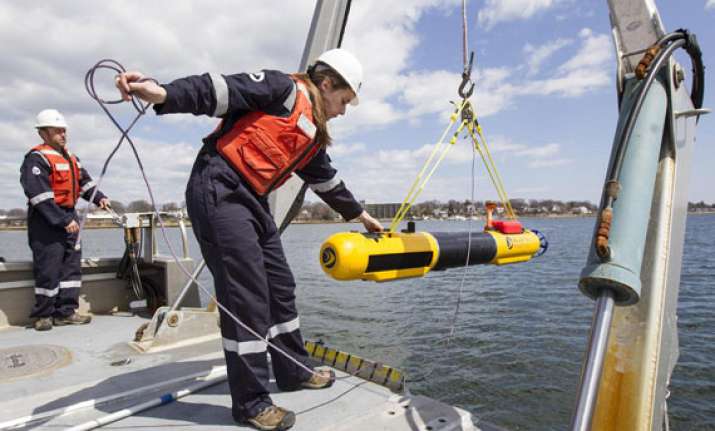 Perth: Searchers hunting for the crashed Malaysian jet today said they will deploy a robotic underwater drone for the first time to locate the plane's "final resting place" in the Indian Ocean at a depth of 4,500 metres after failing to detect any signals from the black boxes in a week.  
"Ocean Shield will cease searching with the towed pinger locater later today and deploy the autonomous underwater vehicle Bluefin-21 as soon as possible," Australian chief search coordinator Angus Houston said.  "We haven't had a single detection in six days so I guess it's time to go underwater," he told a news conference.  In another significant development in the search, Houston said two litres of the newly spotted oil slick had been collected for testing.
"I stress the source of the oil is yet to be determined but the oil slick is approximately 5,500 metres downwind...from the vicinity of the detections picked up by the towed pinger locater on Ocean Shield," he said.  Houston said he did not think the oil slicks were from one of the many ships involved in the search but it would take a number of days before the oil could be conclusively tested.  
"It's very close to where the transmissions are coming from and we'll investigate it and that will take a little bit of time, given that we're in the middle of the Indian Ocean.  We don't think it's from the ships, so where is it from? So it's another lead to pursue," he said.
The Bluefin-21, a US Navy probe equipped with side-scan sonar, will be deployed today. Side-scan sonar is an acoustic technology that creates pictures from the reflections of sound rather than light.
Multi-nation search teams have been using a towed pinger locater to listen for signals from the plane's black box flight recorders till now. But no new signals have been heard since April 8, amid concerns the flight recorders' batteries have expired.
Flight MH370 with 239 people, including five Indians, on board went missing 38 days ago. The Malaysia Airlines Boeing 777-200 was flying from Kuala Lumpur to Beijing when it lost contact with air traffic controllers over the South China Sea.
The search teams, armed with sophisticated naval aircraft and ships, have focused on waters west of the Australian city of Perth, with teams racing against time to detect signals before the flight recorder batteries - which last about one month - run out.