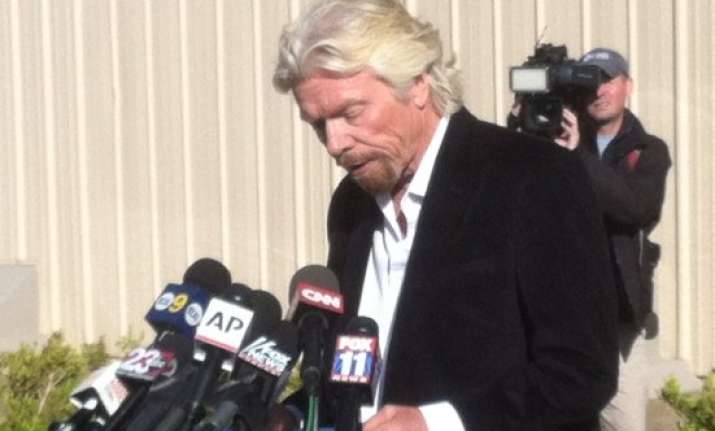 Mojave, California: Billionaire Virgin Galactic founder Richard Branson vowed on Saturday to find out what caused the crash of his prototype space tourism craft that killed one of two test pilots, adding that while he remains committed to civilian space travel "we are not going to push on blindly."
In grim remarks at the Mojave Air and Space Port, where the craft known as SpaceShipTwo was under development, Branson gave no details of Friday's accident and deferred to the National Transportation Safety Board, whose team had just arrived.
"We are determined to find out what went wrong," he said, asserting that safety has always been the top priority of the program that envisions taking wealthy tourists six at a time to the edge of space for a brief experience of weightlessness and a view of Earth below.
"Yesterday, we fell short," he said. "We'll now comprehensively assess the results of the crash and are determined to learn from this and move forward."
He also criticized early speculation about crash causes. "To be honest, I find it slightly irresponsible that people who know nothing about what they're saying can be saying things before the NTSB makes their comments."
The pilot killed in the test flight was identified Saturday as Michael Tyner Alsbury, 39, of nearby Tehachapi. The surviving pilot is Peter Siebold, 43, who parachuted to safety and was hospitalized.
Both worked for Scaled Composites, the company developing the spaceship for Virgin Galactic. Scaled Composite said Alsbury was the co-pilot for the test flight. Siebold, who was piloting SpaceShipTwo, "is alert and talking with his family and doctors," the company said in a statement.
More than a dozen investigators in a range of specialties were forming teams to examine the crash site, collect data and interview witnesses, NTSB Acting Chairman Christopher A. Hart told a press conference at Mojave Air and Space Port.
"This will be the first time we have been in the lead of a space launch (accident) that involved persons onboard," said Hart, noting that the NTSB did participate in investigations of the Challenger and Columbia space shuttle disasters.