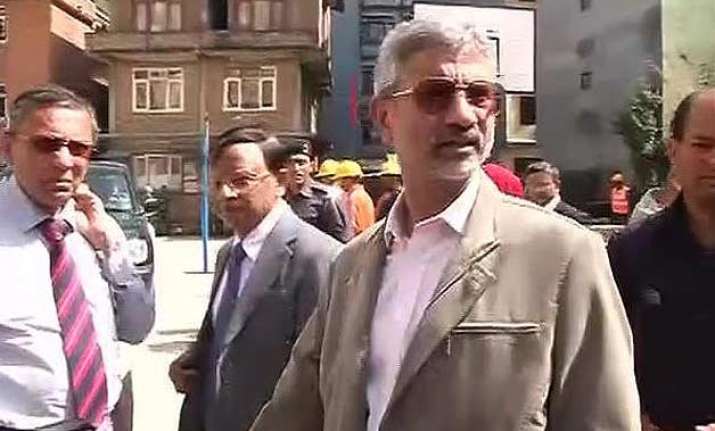 Kathmandu: Nepal's remote mountainous areas have suffered "almost total devastation" from the powerful quake that claimed over 6,300 lives, aid agencies warned today, even as relief slowly began to reach far-flung regions amid fresh aftershocks that kept people on edge.  
Top Indian officials, who arrived here today, took stock of the situation in the battered country as they assured Nepal of all possible assistance.
National Security Advisor Ajit Doval and Foreign Secretary S Jaishankar called on Prime Minister Sushil Koirala to discuss the rescue and relief operations in the areas affected by the earthquake.
Doval and Jaishankar also called on President Ram Baran Yadav to discuss the modalities of assistance to the country.  They also held separate meetings with Foreign Minister Mahendra Bahadur Pandey, Home Minister Bam Dev Gautam and Army Chief Gaurav Rana.
Asked about Nepal's response to India's offer of assistance, Doval said, "It was very, very positive. They expressed that the immediate need would be to provide some tents among other relief measures."
"They have placed their request. We have responded that you (Nepal) develop the infrastructure for the distribution and free passage and early clearance for border areas. And we will provide all the assistance," Doval said. 
 Tremors jolted Nepal for the sixth day today as rescuers struggled with disposing off dead bodies and sifting through mounds of rubble for rare survivors after hopes of finding them were rekindled following the miraculous rescue of a teenage boy and a young woman yesterday.  International humanitarian bodies called for greater urgency in relief efforts as the death toll from Saturday's devastating temblor topped 6,300 while the number of injured crossed 14,000.
"One of our teams that returned from Chautara in Sindupalchowk district reported that 90 per cent of the homes are destroyed. The hospital has collapsed, and people are digging through the rubble with their hands in the hope that they might find family members who are still alive," said Jagan Chapagain, Director of Asia Pacific with the IFRC.  "We can expect the situation to be the same if not worse in many other places where aid has not yet been delivered," Chapagain said.
There are estimates that up to 40,000 homes in Sindupalchowk alone have been destroyed, the International Federation of Red Cross said in a statement.  Meanwhile, over 1,000 EU citizens are still unaccounted for in Himalayan Nepal, diplomats said today. The Europeans had mostly been climbing in the avalanche-hit Mt Everest region and trekking in the remote Langtang range near the epicentre of the quake.