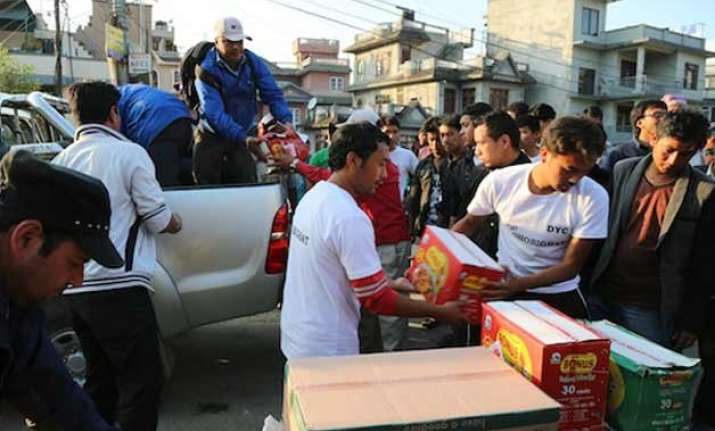 Kathmandu: Furious over the race among the foreign rescue teams to take credit for relief operations, Nepalese Army wants them all to be sent back.  
According to a report published in Navbharat Times, Nepalese Army has  informed the government that the army is capable of completing the task and that all the foreign teams should be asked to go back.
Kathmandu: The toll in the massive earthquake that devastated Nepal has risen to 6,166, the Nepalese home ministry said on Friday.
According to Nepal Police, the total number of injured is over 10,000, Kantipur News reported.
As many as 12,064 houses have been reported destroyed.
Kathmandu: A woman was rescued alive from rubbles of a collapsed building after 128 hours in Nepal, which has been hit by a massive earthquake on April 25, a media report said.
Krishna Devi Khadka, 24, was rescued by a joint team of Nepal Army, Nepal Police and Israeli rescue team from Janasewa Guest House in Nepal's Gonggabu village on Thursday, Kantipur News reported.
Relief trucks looted in Nepal, death toll may surpass 15,000-mark
Kathmandu: Nepal Army Chief General Gaurav Rana has said that the death toll in the earthquake could cross 15,000-mark.
Rana, who is leading the nationwide rescue effort, yesterday said: "Our estimates are not looking good. We are thinking that 10,000 to 15,000 may be killed."
Most fatalities have been reported from Sindhupalchowk, a district situated 70 km from capital Kathmandu. According to the district administration, 1,600 people had lost their lives by Thursday. Many more were yet to be pulled out from deep rubble.
Meanwhile, reports suggested that very little aid reached in the district, prompting the attacks on relief trucks. Angry people, some of them kids, captured three containers of tents and other items that were being ferried by the Nepal Army in Sangachowk.
The people said they were afraid that the relief material might go to the influential people instead of to them who need it most. After a week of the quake, the people are still living outside and do not have access to fresh water or food.
In Kathmandu, most of the people, who were sleeping outside their homes for fear of aftershocks, have moved back indoors. There were only a few dozen tents left at the Tudikhel grounds in the heart of the city, with less than a thousand people still there. The area used to be crowded with more than 30,000 people in the first days after the earthquake.
Almost all the gas stations are open Friday in Kathmandu and there are no more lines.
The popular Hermann's bakery at Lalitpur, a Kathmandu suburb, is selling fresh bread and croissants, which were quickly snapped up.
A massive earthquake measuring 7.9 on Richter Scale hit Nepal on April 25, killing more than 6,000 people and leaving nearly 12,000 injured.