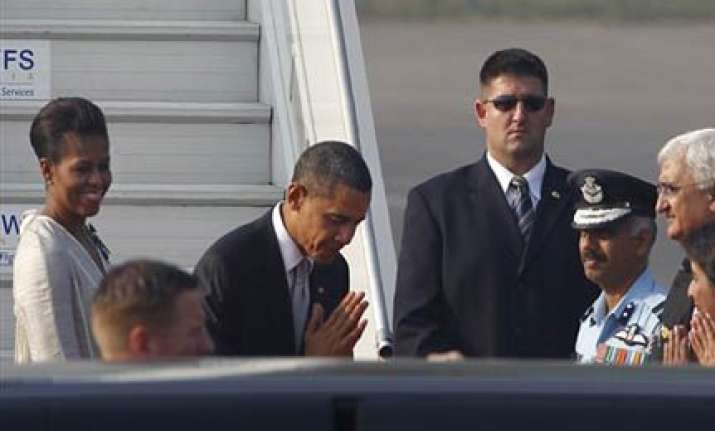 Islamabad, Nov 9 (PTI) Warning that terrorists respect no borders, Pakistani media today counselled the government here to refashion its "confrontational" foreign policy to give "peace a chance", a day after US President Barack Obama said "safe havens" within Pakistan's borders are "unacceptable".
The desire for peace has to come from within as made clear by President Obama's remarks in India, the newspapers said in editorial and front page opinion pieces on his visit.
As US has made it clear that it cannot impose solutions to long standing issues like Kashmir, the papers said that Pakistan will have to look hard at the American President's remarks.
Pakistan must develop a "more differentiated and supple approach to the world outside" instead of being habituated to a confrontational foreign policy that had developed "because of the subordination of our Foreign Office to the military point of view," said The Express Tribune.
In an editorial titled 'Reading Obama right', the daily said if Pakistan remains reluctant in refashioning its foreign policy, then it ran the risk of being seen as "an inward-looking state that no longer cares how isolated it is in the world".
The editorial said: "The ease the world feels with India is owed to India's soft image which our ideology and our weak state situation do not allow us. The truth is that our hard ideological environment repels global capital as investors feel jittery visiting Pakistan."
"In today's world, defeat can be described in one way only: international isolation... Be it Kashmir or any other issue, principles don't help if they cause isolation, pointing to martyrdom as justification for national honour," it noted.
"Cheers - US President endorses India's bid for permanent UNSC seat," said the headline alongside a picture of Obama and Prime Minister Manmohan Singh raising a toast in The Express Tribune.
Obama's endorsement for India's bid to become a permanent member of the UN Security Council too was covered prominently on the front pages of other dailies. Several newspaper editorials highlighted Obama's remark about India having a vital stake in stable and peaceful Pakistan.
"What should impel both India and Pakistan to cooperate with each other is the common threat of terrorism. The history of sour mutual relations and rivalry in Afghanistan are militating against this kind of cooperation," the Daily Times said in its editorial titled 'Give peace a chance'.
The newspaper added: "The will for peace, however, has to come from within the two South Asian neighbours. Given the accumulated layers of grievances over time, this will be an uphill task. Nevertheless, it is necessary."