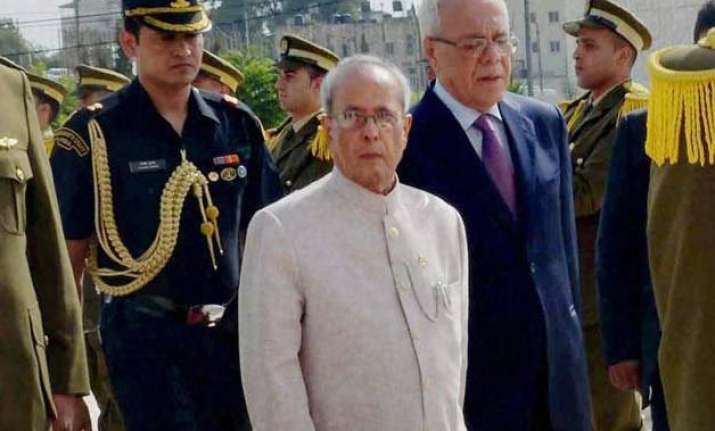 Ramallah: Observing that peace and stability in the Middle East region is in India's interest, President Pranab Mukherjee today proposed a three-pillar framework to propel its "historic" ties with Palestine besides building a secondInformation Technology (IT) centre in Gaza.
Mukherjee, who is in Palestine in the first-ever State visit by an Indian President, also announced an increase in Indian Technical and Economic Cooperation(ITEC) scholarship programme slots for Palestine to 100 per annum and setting up of an India-Chair at the Al-Quds University.
The President made the proposal and the announcements in his acceptance speech after he was conferred a honorary doctorate by Al-Quds University in Abu Dees in East Jerusalem on the second and final day of his visit to this country.
At the function, Mukherjee was described as a "valiant knight of peace".
On Sunday, the President was conferred with an honorary degree in political science by the University of Jordan in Amman. On Thursday, he will be conferred a honorary doctorate by the Hebrew University in Israel.
In his speech, Mukherjee told the audience at the Al-Quds University, which included Prime Minister Dr Rami Hamdallah, "India shares the perception that the Palestinian issue is at the centre of Arab-Israeli conflict. Peace and stability in the region is in India's interest."
Noting that the speed with which an event happening in one place of the world triggers a response in another is unprecedented in terms of its impact and scale, the President said maintaining regular contacts at all levels is, therefore, important.