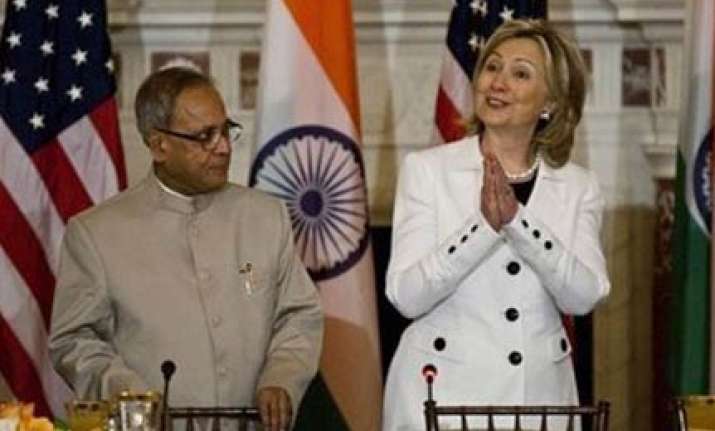 Washington, Oct 8 : Finance Minister Pranab Mukherjee met US Secretary of State Hillary Clinton here to firm up agenda of President Barack Obama's early November visit to India, which he has termed would be the "defining moment" for the relationship between the two countries.  
The Mukherjee-Clinton meeting held at the Foggy Bottom headquarters of US State Department lasted for about 30 minutes, during which the Obama visit -- a few weeks from now   dominated the major part of the talks. The two leaders also discussed bilateral issues and ways to strengthen Indo-US economic ties.  
"It (Obama visit) will not only be important outstanding visit. It would also, as President himself pointed out that it would be a defining moment in history. It can't be categorised in one, two, three, four items," Mukherjee said just before he met Clinton.  
"Let me mention how delighted I am at the prospect of welcoming President Obama to India next month. We recall his hospitality to India last November, when our Prime Minister was made the first state guest," he said said while delivering the inaugural Woodrow Wilson Center and FICCI annual lecture series.  
"President Obama had said that the US-India partnership would be one of the defining relationships of the 21st century. I share this sentiment and that our country is ready to take this friendship forward."  
Mukherjee also expressed hopes that President Obama's visit will strengthen cooperation between India and the US, and lay out a vision for a strategic partnership based on shared values and interests.  
"The overall message would be that the two large democracies of the world are coming together to convey the message that in democracy there should be diversity and we should not oppose diversity, we should celebrate diversity. I do hope that President Obama's visit to India will convey to the world that message very clearly and distinctly," he said.  
Noting that the Indo-US relationship is a "defining moment in history", the finance minister said that it would also have a tremendous impact on the world if the two nations deliver together. The meeting between Clinton and Mukherjee, caps the series of high-level meeting between the two countries before the Obama visit in early November.  
In the past two weeks, Clinton has had meetings with External Affairs Minister S M Krishna, Defence Minister A K Antony, National Security Advisor Shivshankar Menon and Foreign Secretary Nirupama Rao.  
Antony also had talks with Defence Secretary Robert Gates and National Security Advisor, Gen (rtd) James Jones, who also met Menon. The upcoming Obama visits dominated the agenda of all these meetings.  
Under Secretary of State for Political Affairs Bill Burns and Assistant Secretary of State for South and Central Asia Robert Blake would be travelling to New Delhi later this month to give final shape to the Obama visit. PTI