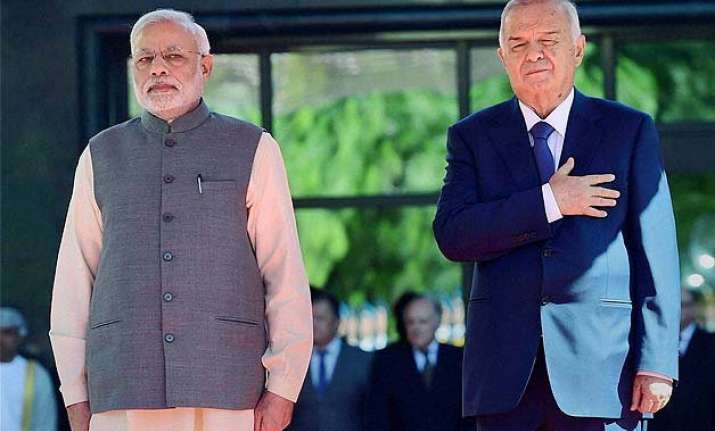 Tashkent:  Indian Prime Minister Narendra Modi was on Monday accorded a ceremonial welcome by Uzbekistan President Islam Karimov at the Kuksaroy presidential complex after which the two leaders held discussions.
"A bond of several millennia. Ceremonial welcome by President Karimov for PM @narendramodi at the Kuksaroy Complex," tweeted external affairs ministry spokesperson Vikas Swarup.
"Important issues at hand. A quiet tete-a-tete between the two leaders before delegation level talks begin," he said.
Earlier, Modi was welcomed at the airport by Uzbek Prime Minister Shavkat Miromonovich Mirziyoyev.
Modi held talks with the Uzbek prime minister at the airport.
"The meetings begin instantly... PM @narendramodi meets PM Shavkat Miromonovich Mirziyoyev after landing at Tashkent," the Prime Minister's Office tweeted.
Modi tweeted: "Hello Uzbekistan! I thank PM Shavkat Miromonovich Mirziyoyev for the warm welcome in Tashkent. Wonderful being here."
Uzbekistan is the first leg of Modi's eight-day tour to Central Asia and Ufa in Russia.