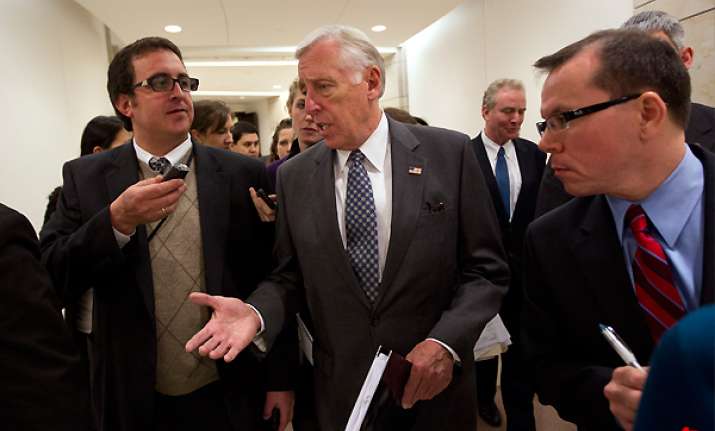 Washington, Dec 23: President Barack Obama won a clear political victory when Republicans in the House of Representatives caved to demands by the president, congressional Democrats and fellow Republicans in the Senate for a short-term renewal of payroll tax cuts for all workers.

The payroll tax cut was the centerpiece of Obama's three-month campaign-style drive for jobs legislation that seems to have contributed to an uptick in his poll numbers—and taken a toll on those of congressional Republicans.

House Republicans were under fire from their constituents and Republican establishment figures incensed that they would risk losing the tax cut issue to Democrats at the dawn of the 2012 presidential and congressional election year. House Republican arguments about the legislative process and the "uncertainty" a two-month extension would mean for business were unpersuasive.

After days of wrangling that even Republican House Speaker John Boehner acknowledged "may not have been politically the smartest thing in the world," Boehner abruptly changed course Thursday and dropped demands for immediate holiday season talks with the Senate on a full-year measure that all sides said they want. Senate leaders had insisted on the two-month extension to buy time for talks next year.

The House and Senate plan to act on the two-month extension Friday. The breakthrough almost certainly spares workers an average $20 a week tax increase Jan. 1.

The compromise legislation would renew the tax break through Feb. 29. Its $33 billion cost would be covered by an increased fee on mortgages backed by the public-private entities Fannie Mae, and Freddie Mac.

"Because of this agreement, every working American will keep his or her tax cut - about $1,000 for the average family," Obama said in a statement. "That's about $40 in every paycheck. And when Congress returns, I urge them to keep working to reach an agreement that will extend this tax cut and unemployment insurance for all of 2012 without drama or delay."

If the cuts had expired as scheduled, 160 million workers would have seen a 2 percentage point increase in their Social Security pension taxes. And up to 2 million people without jobs for six months would start losing unemployment benefits averaging $300 a week.

The Republican retreat ends a tense standoff in which Boehner's House Republicans came under great pressure to agree to the short-term extension passed by the Senate on Saturday. The speaker was initially open to the idea, but rank-and-file Republicans revolted, and the House instead insisted on immediate talks on the year-long measure passed by the House, which contains curbs to unemployment insurance and other ideas backed by conservatives—as well as deeper spending cuts to pay for the full-year cost.

After Senate leaders tried but failed to match the House's goal for a full-year pact, the chamber on Saturday instead gave sweeping approval for the two-month extension of the payroll tax cut, jobless benefits and doctors' Medicare fees that otherwise would have been cut 27 percent. The House had just days before passed a full-year extension that included a series of conservative policy prescriptions unpalatable to Obama and congressional Democrats.

Obama, Republicans and congressional Democrats all said they preferred a one-year extension but the politics of achieving that eluded them. All pledged to start working on that in January.

Almost forgotten in the firestorm is that Republicans had extracted a major victory last week, winning a provision that would require Obama to make a swift decision on whether to approve construction of the Keystone XL oil pipeline, which would bring Canadian oil to the U.S. and create thousands of construction jobs. To block the pipeline, Obama would have to declare that is not in the nation's interest.

Obama wanted to put the decision off until after the 2012 election.