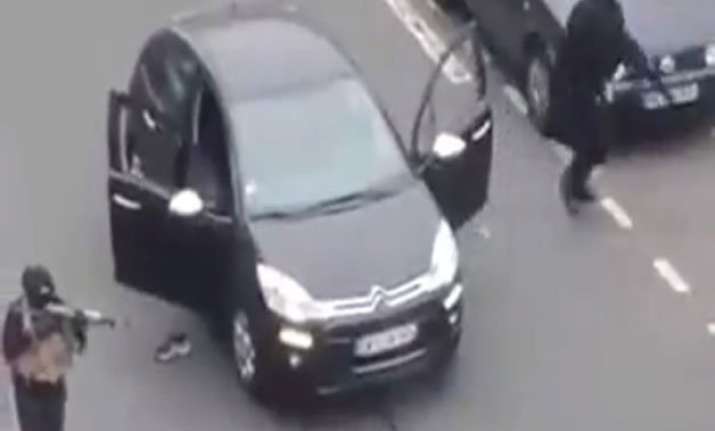 Paris: Shaken to core after the deadly attack on satirical weekly 'Charlie Hebdo', the French security forces have initiated a massive operation to get-on-hold of the two brothers who are suspected of killing 12 people in the Islamic State massacre.
While two suspects are on run, an 18-year-old, who is suspected of being a co-conspirator in the assault, has surrendered himself to the police. He has been taken under police custody for further investigations and getting possible leads about other 'two suspects'.
Here are 10 things we know so far about 3 suspects:
1. The first suspect has been identified on the basis of his identity card left behind in the getaway car, said police sources.
2. There is no clarity about the nationality of the suspected 18-year-old boy Hamyd Mourad who had surrendered to the police in Reims.
3. It is after seeing his name circulating in the social media that Hamyd Mourad- the youngest suspect, had submitted himself to the police.
4. Now, Said Kouachi and Cherif Kouachi are the two suspects being hunted by the Police.
5. As per reports, Said and Cherif are brothers and are in their early 30s.
6. Born in 1980and 1983 respectively, both brothers Said and Cherif are from Paris.
7. In 2008, Cherif Kouachi was sentenced to 18 months in jail over terrorism charges. He was found guilty of helping funnel fighters to Iraq's insurgency
8. Cherif had been a member Islamist cell, running from a mosque in eastern Paris, which enrolled French nationals to go to Iraq to join militant operation.
9. However, Cherif Kouachi was arrested before flying to Iraq to fight Americans in Iraq.
10."I really believed in the idea of fighting the US-led coalition in Iraq," Cherif had told Court during his trial in 2008.