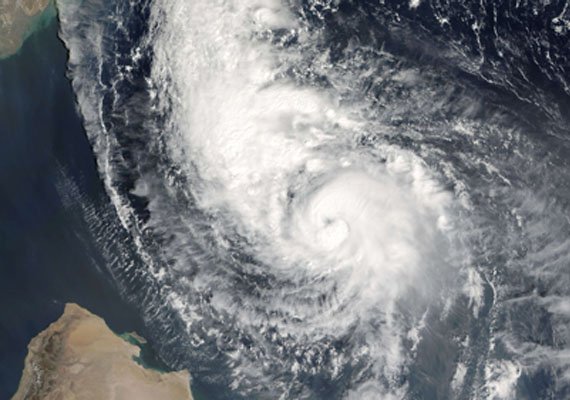 Karachi: Pakistan has planned to evacuate at least 50,000 people from its southern coastal areas with cyclone Nilofar slowly moving towards it, officials said today.
The cyclone, moving at about 14km per hour speed towards Sindh may hit Pakistan tonight or tomorrow with the possibility of heavy rains in the lower parts of the province over the next two days.
Chief meteorologies Tauseef Alam told reporters in Karachi that the cyclone may pass around 250km from Karachi but its outer waves will hit the coast.
The National Disaster Management Authority (NDMA) has said that about 50,000 people in vulnerable areas are to be ready for emergency evacuation.
All government offices and educational institutions in Karachi, Thatta, Badin, Sujawal and Tharparkar will remain closed tomorrow where a cyclone emergency had been declared.
Preparations have been made to rehabilitate people in government buildings including educational institutions.
Provincial Information Minister Sherjeel Memon said emergency centres have been set up in all coastal areas and appeals were being made to residents of the areas to shift for a few days to safe locations within their districts.
The government has already asked the fishermen to stay away from the sea and those already gone to the sea were being called back.
Apart from Sindh, emergency has been imposed in coastal area of Balochistan province.
Chief Minister Dr Abdul Malik Baloch said his government had taken measures to avoid losses.
Pakistan experts said the cyclone will further weaken as it moves towards coastal areas of lower Sindh.
At present the estimated central pressure of cyclone is 996hpa and the average sustained wind speed is around 90-100 knots.
The cyclone will start weakening this afternoon and is likely to hit Sindh as a cyclonic storm or depression with a wind speed of 70-80km per hour.