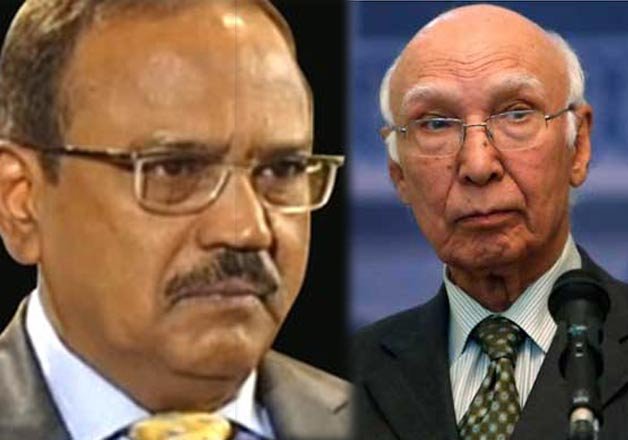 New Delhi: India today hinted that it may call off NSA level talks if Pakistan tries to impose new conditions for the discussion to be held on Sunday.
MEA spokesperson Vikas Swarup, in a press conference held in the evening said, "newly-imposed conditions by Pakistan cannot be the basis for going forward".
The spokesperson, however, categorically did not say that talks were called off between the two neighbouring nations.
Sources told to India TV that talks were cancelled and official decision will be announced soon.  
The two NSAs were scheduled to meet in New Delhi for talks on terrorism-related issues for the first time on August 23, as decided in a meeting between Prime Ministers Narendra Modi and Nawaz Sharif last month in Ufa in Russia. The invitation by the Pakistan High Commission in New Delhi to hardline leader Syed Ali Shah Geelani and other separatist leaders including Umar Farooq on Sunday to meet Aziz has upset India.
"India remains committed to discussing issues with Pakistan bilaterally and peacefully" said Vikas Swarup, MEA Spokesperson, while announcing the decision in press conference held in the evening. 
"In Ufa both PMs agreed on a meeting of NSAs to discuss all issues connected to terrorism. Instead we saw a sharp increase in unprovoked firing from Pak side and some serious cross border terror incidents," he said.
"Last one at Udhampur resulted in capture alive of a Pak National, matter that would have come up in NSA level talks to Pak's discomfort" said the spokesperson while referring to Pakistan terrorist Naved. 
Last year, India had unilaterally called off Foreign Secretary-level talks after the Pakistan High Commissioner here had held "consultations" with the Kashmiri separatist leaders on the eve of FS-level meeting in Islamabad.
Earlier during the day, toughening its stance, Pakistan rejected India's "advice" not to hold a meeting between its NSA Sartaj Aziz and Hurriyat leaders in New Delhi, saying it will not "depart from an established practice" of interacting with them.
This was conveyed to Indian High Commissioner T C A Raghavan here by Pakistan Foreign Secretary Aizaz Ahmad Chaudhry, who also made it clear that any pre-conditions for the talks between Aziz and his Indian counterpart Ajit Doval were not acceptable to Pakistan.
"Pakistani leadership has always interacted with the Kashmir/Hurriyat leadership, during their visits to India.  Pakistan sees no reason to depart from this established past practice," a Pakistan Foreign Office statement said, adding the decision was taken after Foreign Office consolations.  
Significantly, Pakistan's reaction to Indian advice came after a crucial meeting of civilian and military leadership here chaired by Prime Minister Nawaz Sharif.
Earlier in the day, the External Affairs MinistrySpokesperson in New Delhi said Pakistan has been advised yesterday that it would not be appropriate for Aziz to meet with Hurriyat representatives.
"Responding to the 'advice' of Government of India, conveyed by their High Commissioner that Sartaj Aziz may not meet the Hurriyat leaders during his forthcoming visit to India, the Foreign Secretary conveyed to the Indian High Commissioner that it would not be possible for Pakistan to accept this advice," the statement added.
The statement said that Kashmir is a disputed territory as per the UN Security Council resolutions which remain unimplemented.
"The Hurriyat leaders are true representatives of the Kashmiri people of the Indian occupied Kashmir. Pakistan regards them as genuine stakeholders in the efforts to find a lasting solution of the Kashmir Dispute," it said.  
The statement said that India's insistence to introduce conditionalities and restrict the agenda for the dialogue, demonstrates a lack of seriousness on India's part to meaningfully engage with Pakistan.  
It said that for its part, Pakistan remains willing to attend the NSAs meeting without any pre-conditions.  Pakistan has proposed and conveyed to India a comprehensive agenda reflecting the broad understanding reached between the leaders in Ufa, that all outstanding issues, including Kashmir and other disputes, as well as, terrorism issues and other CBMs will be discussed between the two countries, the statement said.
Information Minister Pervaiz Rashid said that ball of talks is now in India's court."We have send the ball of talks in the Indian court. Let us see if it plays with us or runs away with the ball," he said.
Former foreign minister and senior leader of Pakistan Tehreek-i-Insaf Shah Mahmood Qureshi said that it seemed India was not ready for talks with Pakistan.  He told media that he did not believe that Pakistan at Ufa had made any commitment to avoid meeting with the Hurriyat leaders.
"Indian is not ready for talks and that is why it is putting conditions," he said. He said talks are the only way to resolve issues between Pakistan and India.