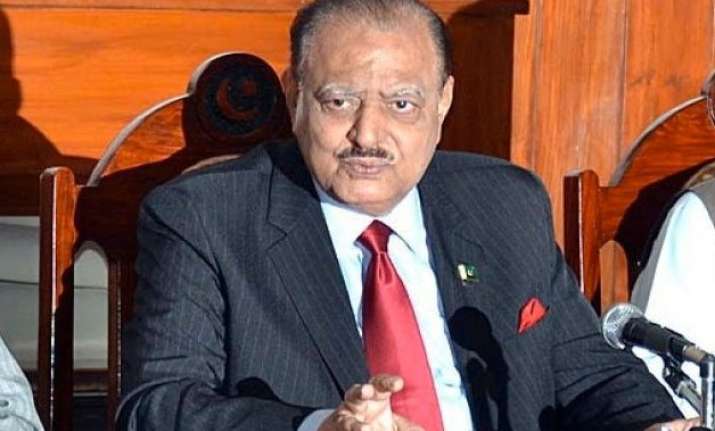 Islamabad: Pakistan President Mamnoon Hussain has said that his country will continue to support the Kashmiris and their right to self-determination.
"The support for the right of self- determination for Kashmiri people is the basic principle of Pakistan's foreign policy and the country has raised the voice in support of Kashmiris on every political and diplomatic forum and it would continue playing this role in future as well," he said yesterday.
He further called on India to stop human rights violations in Kashmir.
He also claimed that the words of Pakistan founder Muhammad Ali Jinnah, the word 'K' in Pakistan denotes Kashmir and the country is incomplete without Kashmir.
Meanwhile, condemning the terror attack at an IAF base in Pathankot, he said that 'Pakistan is against all forms of terrorism'.
"Pakistan condemns terrorism in all its forms and manifestations including the incident at Pathankot," he said.
The Pathankot terror attack began on Saturday last with six terrorists sneaking into the Air Base, leading to an encounter in which seven securitymen, including a Lt Colonel, were killed.
Six terrorists were eliminated during the encounter with the security forces.
The terrorists were believed to owe allegiance to Pakistan-based Jaish-e-Mohammed (JeM).
With PTI Inputs