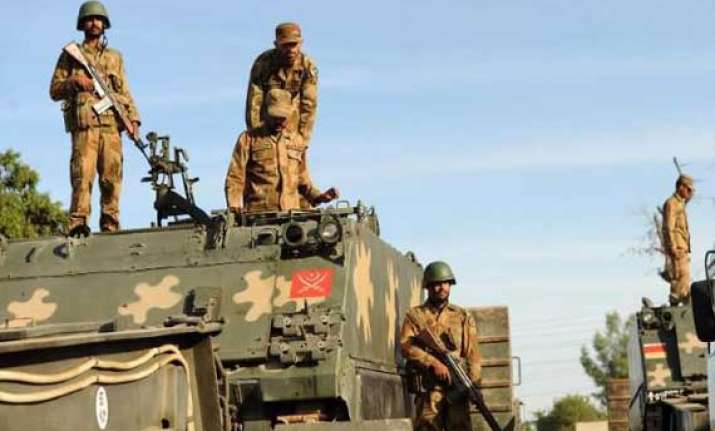 Islamabad: At least 47 militants were killed today in air strikes in Pakistan's two tribal districts in the troubled northwest, a military spokesman said.
It was one the deadliest days for militants since launch of operation Zarb-e-Azb on June 15.  Major General Asim Saleem Bajwa said the first raid was carried out against 12 hideouts of rebels in Khyber tribal region which killed 20 terrorists.
The other attack was launched at the Taliban positions in the North Waziristan, the hub of fighting.  "27 terrorists were killed in jet strikes in Mir Ali and surroundings areas this afternoon. 11 terrorist's hideouts were destroyed. Huge cache or arms and ammunition were also destroyed," Bajwa said.
He said that two soldiers and one civilian were killed when an explosive laden vehicle exploded near a check post outside a civil hospital in Spinwarm area of North Waziristan.  
"According to details a single cabin explosive laden vehicle tried to approach a check post outside a civil hospital when soldiers on duty, spotted and fired at the vehicle. The vehicle exploded 100 meters short of check post," he said.
More families have fled the conflict zone and the numbers of displaced people have reached 4,54,207. The administration is struggling to provide food and other essentials of life to these hundreds and thousands of people.  
Bajwa said six ration distribution points have been established for these people, including three at Bannu, two at Dera Ismail Khan and one at Tank.
Detailed distribution of 4473 tonnes of ration for 40,000 families will commence from tomorrow. It will include flour, cooking oil, pulses, dates and tea.
Army has also set up 32 relief goods collection points in major cities of the country for collection of donations.