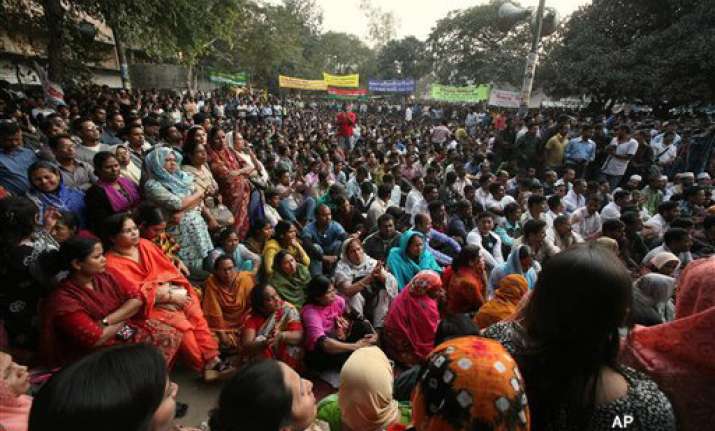 Dhaka, Feb 7 :  Schools and businesses were shut throughout Bangladesh on Monday as the country's main opposition party enforced a dawn-to-dusk general strike to protest the government's alleged failure to run the nation effectively.
The Bangladesh Nationalist Party, which is led by former Prime Minister Khaleda Zia, has said it called the one-day strike because the government has failed to keep commodity prices and law and order under control. It also accuses the government of failing to properly regulate the country's capital market -- which recently suffered a sharp fall, fueling violence on the streets -- and says the government oppresses opposition activists.
The government of Prime Minister Sheikh Hasina, Zia's archrival, denies the allegations and says the main opposition party is trying to destabilize the country.
On Monday, mass transportation was hugely disrupted in the capital, Dhaka, with only a few buses and three-wheel rickshaws seen on the city's usually clogged streets.
Police installed barbed wire fencing around the headquarters of Zia's party in downtown Dhaka to prevent her supporters from entering the premises.
The strike went on after at least 10 buses were set on fire Sunday, allegedly by opposition supporters. No one was hurt in those attacks.
However, a homemade bomb exploded on the campus of a Dhaka university Sunday night, injuring two people.
Dhaka police said the opposition was responsible for Sunday's violence. The city's police chief, Benazir Ahmed, warned of tough actions against any attacks Monday, but there were no immediate reports of further violence.
The opposition had initially called the strike to protest plans for a new airport outside Dhaka that villagers fear would take away their crop lands and destroy a wetland.
On Jan. 31, villagers clashed with security officials outside the capital over the plan, and a police officer was killed. Two days later, the government announced that it would seek another location for a new airport.But the opposition said it would go ahead with the strike anyway.
"There's no valid reason for the opposition to call a strike," Syed Ashraful Islam, a member of Hasina's Cabinet, told reporters Sunday."The opposition has no issue, they just want to destabilize the country," he said.
One of Zia's aides, Khandaker Delwar Hossain, said Monday that supporters had responded to the call for the strike."We are protesting peacefully across the country," he told reporters.General strikes are a common opposition tactic in Bangladesh. AP