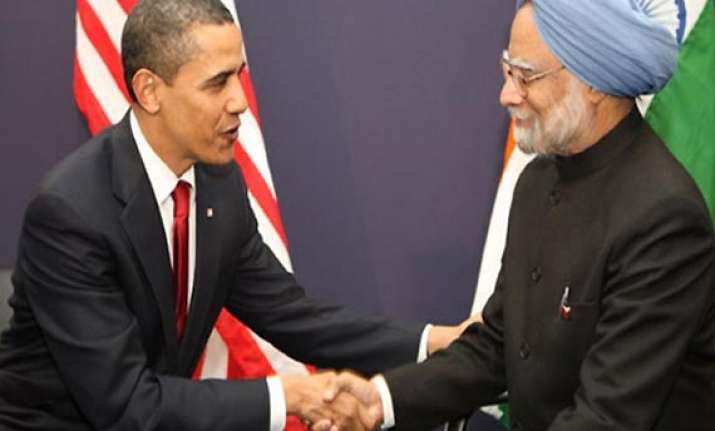 Washington: Prime Minister Manmohan Singh will meet US President Barack Obama at the White House on September 27, during which they will chart a course to enhance bilateral ties and defence cooperation. 
The announcement came after National Security Advisor Shivshankar Menon met his US counterpart Susan Rice and US Defence Secretary Chuck Hagel yesterday to prepare for the "working visit" of Singh.
"It's a working visit. It's a short visit. But I think, in terms of the substance, it is going to be a good visit," Menon said.
Rest of the logistics of the trip is still being worked out, he said, adding the meeting will be followed by lunch.
"It (defence ties) could be (path breaking). It is still a work in progress. But it is significant. Because the basic idea behind it is to move from a buyer-seller situation to actually co-developing, co-producing various defence acquisitions.
And we do this together and that could involve technology transfer and working together at much higher levels of technology than we have so far," Menon said at the end of his six-day US trip.
Rice told Menon that Obama was looking forward to his meeting with Singh. At the meeting, Menon and Rice also reviewed the US-India strategic partnership.  
"Rice reaffirmed the United States' commitment to further expanding and strengthening our bilateral relationship, including economic and commercial ties," US National Security spokesperson Caitlin Hayden said.
"This meeting follows the Prime Minister's visit to Washington in 2009, and the President's visit to India in 2010, and it will highlight India's role in regional security and stability and provide an opportunity for the two leaders to chart a course toward enhanced trade, investment and development cooperation between the US and India," Hayden said.
"Noting our growing bilateral ties with India, Ambassador Rice said that the President was looking forward to welcoming Prime Minister Singh to the White House on Friday, September 27," Hayden said.
Menon is believed to have briefed Hagel on the what is now being called as Carter-Menon initiative and the progress made so far in taking the India-US defence relationship to the next level.