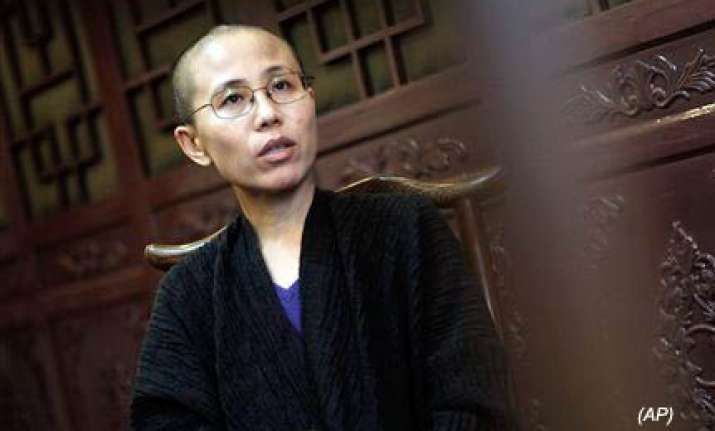 Beijing: Chinese police have forced the wife of Nobel Peace Prize winner Liu Xiaobo to leave Beijing and are believed to have taken her to the northeastern city of Jinzhou, where her husband is imprisoned, reports said on Saturday.
"(The police) are sitting there waiting for me to get my things together," US-based Radio Free Asia quoted Liu's wife, Liu Xia, as saying late Friday.
Liu Xia told the broadcaster that the police said they planned to take her to Jinzhou but she was worried that she could be held under house arrest at another place outside Beijing.
"They said I could see him (Liu Xiaobo) tomorrow," Liu Xia was quoted as saying.
Dissident Wang Jinbo also quoted Liu Xiaobo's brother as saying Liu Xia was en route to the prison in Jinzhou "in the company of the police".
Liu Xia was expected to arrive in Jinzhou on Saturday morning, accompanied by her brother, Wang reported on his Twitter feed.
Wang is a friend of Liu Xia and travelled with her in July on one of the four prison visits she made to Jinzhou since Liu Xiaobo was transferred there in May.
On her Twitter account late Thursday, Liu Xia said she had rejected police efforts to persuade her to travel to Jinzhou, which is about 500 km from Beijing, before Friday's announcement of the Nobel Peace Prize.
After the announcement, a group of up to 100 supporters gathered outside Liu's Beijing apartment compound while police prevented her from leaving.
Dozens of journalists also waited outside the compound, monitored by about 30 uniformed police and dozens of plain-clothes officers.
Liu Xiaobo, a prominent writer and one of China's leading dissidents, was arrested in December 2008, two days before he and 300 others released the Charter 08 for democratic reform.
He was sentenced in December to 11 years in prison for subversion.
International rights groups and politicians welcomed Friday's award of the Peace Prize to Liu, but China said it was angered by the decision and insisted that Liu was a 'criminal' convicted under Chinese law.