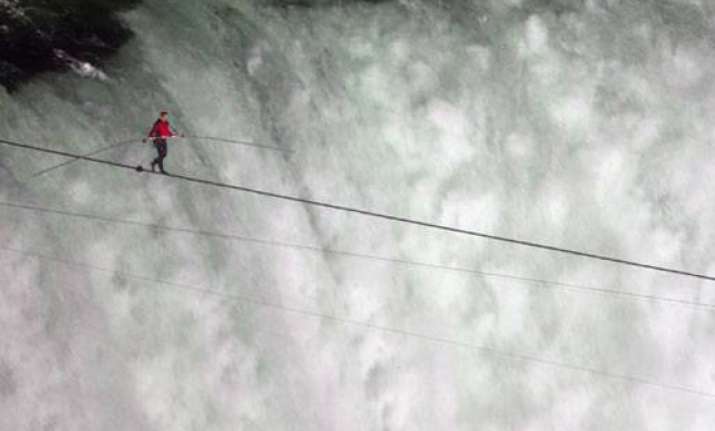 Canada, Jun 16:
American daredevil Nik Wallenda became the first person to walk on a tightrope across Niagara Falls, taking steady, measured steps on Friday night for 1,800 feet (549 meters) across the mist-fogged brink of the roaring falls separating the US and Canada.
The 33-year-old accomplished what he said was his childhood dream before an estimated 112-thousand people crowding the shores of both countries and millions more who watched a live television broadcast.
The seventh-generation member of the famed Flying Wallendas had long dreamed of pulling off the stunt, never before attempted.
Other daredevils have wire-walked over the Niagara River but farther downstream and not since 1896.
Towards the end, as he neared the Canadian shore, Wallenda dropped to one knee and pumped his fist while the spectators cheered.
He broke into a playful run about 15 feet (five meters) from the finish line, where he was greeted by his uncle.
His wife and three children were waiting below.
ABC televised the walk and insisted Wallenda use a safety harness to keep him from falling in the river.
Wallenda said he agreed because he wasn't willing to lose the chance to perform the walk it took him well over a year to win permission from two countries to do.
For Wallenda, who has grown up on the high wire and holds six Guinness records for various stunts, the Niagara Falls walk was unlike anything he'd ever done.
The Wallendas trace their roots to 1780 Austria-Hungary, when ancestors traveled as a band of acrobats, aerialists, jugglers, animal trainers and trapeze artists.
The clan has been touched by tragedy, notably in 1978 when patriarch Karl Wallenda, Nik's great-grandfather, fell to his death during a stunt in Puerto Rico.