Follow us on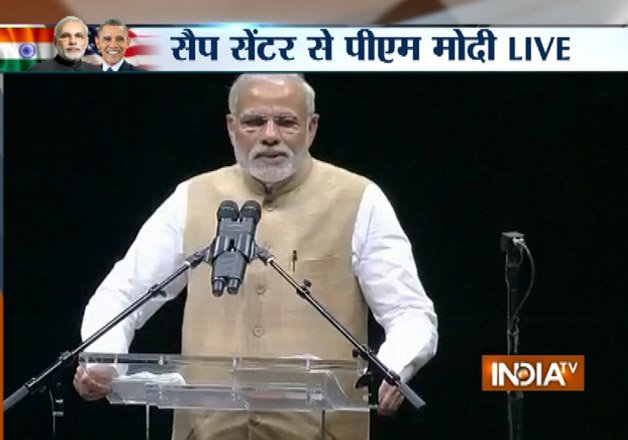 New Delhi: Prime Minister Narendra Modi todday addressed the Indian diaspora at San Jose's SAP Centre.
More than 45,000 people had registered for Modi's community reception at SAP arena, however, only 18,500 people were given the tickets.
California has the largest population of non-resident in the US, with a heavy concentration in the Bay Area.
Highlights:
* Forgot to give the good news....a direct flight between Delhi and San Francisco three times a week: PM
* On its 70th Anniversary UN must clarify who's with terrorist & who stands with humanity, picture must be made clear: PM Modi
* We are harbingers of peace. We come from the land of Gandhi & Buddha: PM
* 'Good terrorism' or 'Bad terrorism' can not serve the humanity. Terrorism is terrorism: PM Modi
* UN still hasn't been able to define terrorism, if it will take so much time to define, how will we tackle it: PM Modi
* Terror and global warming are two pressing issues the world faces. We need to mitigate these two menaces: PM Modi
* Once I requested people of nation to give up their LPG subsidy for poor,I feel proud in saying 30 lakh people surrendered their subsidy: PM
* We are moving ahead with 'JAM of all'; 'J' stands for Jandhan account, 'A' stands for 'Adhaar card' & 'M' stands for 'Mobile governance': PM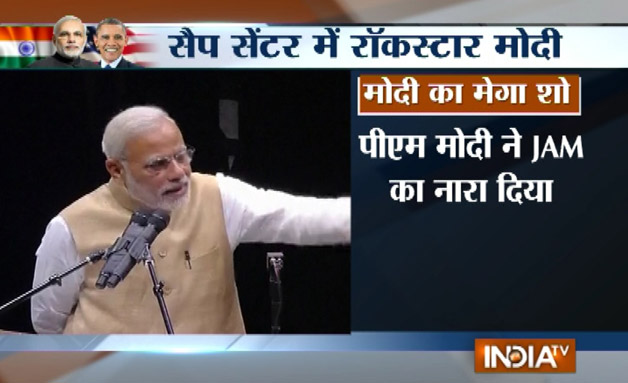 * Penetration of technology is immense. Everybody has mobile phones: PM Modi
* The way technology has given a new strength & direction to entire World, we've also initiatited 'Digital India' acknowledging that: PM Modi
* India is only nation which succeeded in its 'Mars orbiter mission' in just one attempt,look at commitment & capability of nation: PM Modi
* Be it 'World Bank', 'Moody's' or any other research agency, everyone is saying India is the fastest growing economy of the World: PM Modi
* I am confident that it will, as my nation is young: PM Narendra Modi
* People ask me where do I get my confidence from? How I'm so sure that my nation will progress ahead: PM Modi
* Today I stand in front of you, do I have any allegations of corruption against me?: PM Modi
* I have faith in the nation because India is youthful. 65% of our population is under the age of 35: PM Modi
* The crowd responds with a unanimous & loud "Yes!" to all of PM's questions.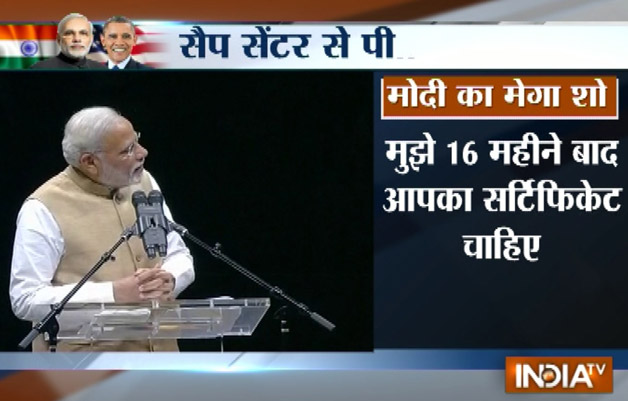 * After 16 months, today I want your certificate. Am I working? Am I working for nation? Am I fulfilling promises?: PM
* I had assured you I will work round the clock for the wellbeing of the people: PM
* You are well aware of what's happening around the world, which is why you stay updated on what's happening in India, what is Modi saying: PM Modi
* Who brought this change? This change was not by brought 'Modi Modi', but 125 crore Indians: PM Modi
* But now people are saying 21st Century is India's Century; World has started believing in this today: PM Modi
* There's a discussion going on across World that who does 21st Century belong to, everyone believes 21st century is Asia's: PM Modi
* Its asked all around, who does 21st century belong to. Everyone agrees its Asia's. For 1st time they dont say that bt say its India's: PM
* I am trying my best to live up to everyone's expectations. Today, India is looked up to with hopes and dreams: PM Modi
* It is being believed that the 21st century is India's century: PM Modi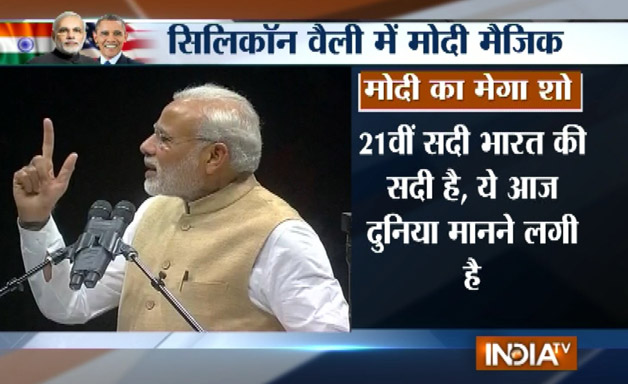 * Jayaprakash Narayan ji who led the movement when emergency was imposed in India in 1975, studied from California,this is the bond we've: PM
* Its been 16 months since I have been to Delhi. I didnt know the routes and roads. A person like me was given the responsibility of India: PM
* Our Sikh brothers came here years ago & began living here. When Indian wanted freedom here too there was a movement for India's freedom: PM
* I see it as Brain Deposit, out to look for opportunities. When that comes this brain will gv back to India with interests: PM Modi
* Brain drain can become brain gain, did anyone ever think about this. Thats why I have a different outlook towards this: PM Modi
* We would hear- we need to stop this brain drain. But India is Bahuratna Vasundhara, there will be many brains there: PM Modi
* Your fingers created magic on the keyboard and the computer and this gave India a new identity. Your skill & commitment is wonderful: PM
* Across the world a new image of India has emerged. The old thoughts about India are going away: PM Modi
* I am coming here after almost 25 years and I am seeing a lot of changes including new faces: PM Modi
* I will begin by saluting Bhagat Singh: PM Modi
* Today is 28th September in India. It is the birth anniversary of the brave son of India, Bhagat Singh: PM Modi
* Good evening California, says PM Narendra Modi as he begins his speech
Yesterday, Modi had held a Townhall question and answer session at Facebook headquarters in California along with social networking site's co-founder and CEO Mark Zuckerberg.
Modi and Zuckerberg discussed how communities can work together to address social and economic challenges.