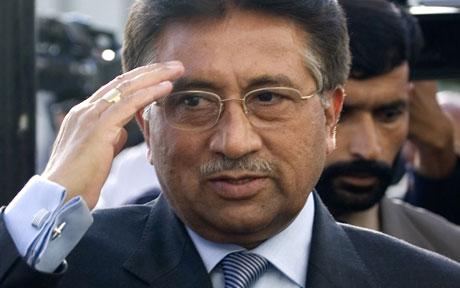 Omer Farooq Khan, TNN, Nov 11, 2010, 02.20pm IST
Tags:Mir Zafarullah Khan Jamali|George W Bush|General Pervez Musharraf|Abdul Qadeer Khan
ISLAMABAD: Pakistan's former Prime Minister Mir Zafarullah Khan Jamali has revealed that the military ruler General Pervez Musharraf wanted to replace the image of the founder of the country Muhammad Ali Jinnah with his own on Pakistani currency notes.
Jamali made this revelation during an interview with Geo TV station. "The former President tried to print his photo on currency notes instead of Quiad-e-Azam (M A Jinnah), but I straight away refused that it could not happen," Jamali said adding that he was of the belief that nobody could replace the founder of the nation.
Jamali said that he was not aware as to who had advised Musharraf to publish his picture on currency notes.
During the interview, Jamali disclosed that the former dictator had also committed Pakistani troops for Iraq to the US President George W Bush in Camp David in 2003.
"When I met Bush in the White House I told him that I could not send troops to Iraq without informing the parliament. After a few days Musharraf decided to dissolve the parliament just for sending troops to Iraq."
Jamali went on to say that Musharraf's legal wizard Sharifuddin Pirzada had even drafted the dissolution order but the US Secretary of State Colin Powel stopped Musharraf from dissolving parliament at the last minute.
The former PM also revealed that Musharraf was ready to handover the country's nuclear scientist Dr Abdul Qadeer Khan to the US in 2004. He added that he had blocked the moven even as an American plane had arrived in Islamabad for taking A Q Khan to the US.
Jamali claimed that he had also blocked the privatisation of Pakistan Steel Mills, National Bank of Pakistan and sale of Roosevelt Hotel in New York, owned by Pakistan International Airlines (PIA). He said these were the reasons of his differences with Musharraf.
After the general election of October 2002, Jamali was elected as Prime Minister by the Parliament. This was the first general election to take place in Pakistan following the 1999 coup by General Musharraf. However, Jamali resigned on 26 June 2004 as Musharraf wanted to appoint his finance minister Shaukat Aziz as PM.