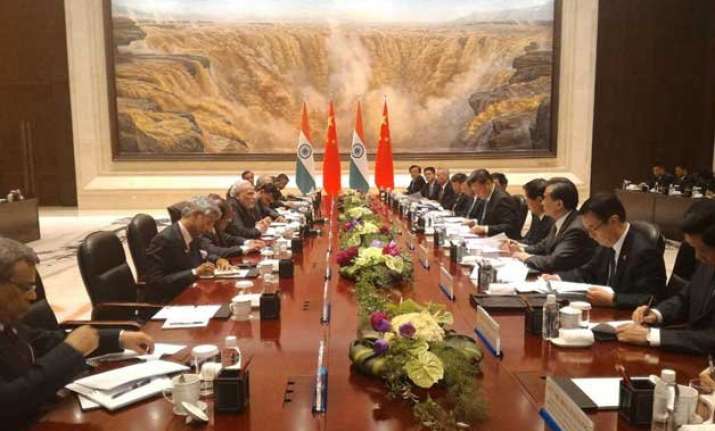 HIGHLIGHTS OF MODI'S CHINA VISIT:
Had an extremely productive meeting with President Xi Jinping - PM Modi.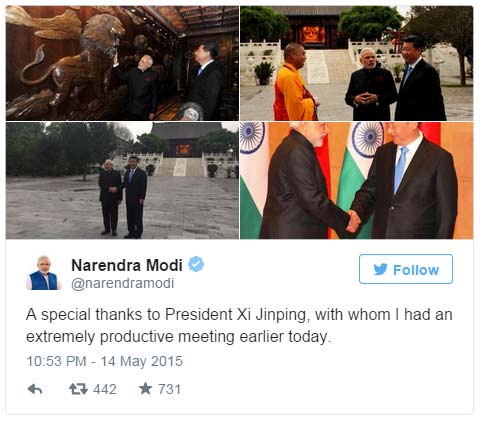 PM Modi thanked people of Xi'an for their hospitality.

PM Narendra Modi arrives at his hotel in Beijing 
Prime Minister Narendra Modi on Thursday evening left the historic city of Xi'an for Beijing, the second stop of his three-day China visit.
External affairs ministry spokesperson Vikas Swarup tweeted: "Xiexie Xi'an! PM @narendramodi departs the city for Beijing for the second leg of his China visit."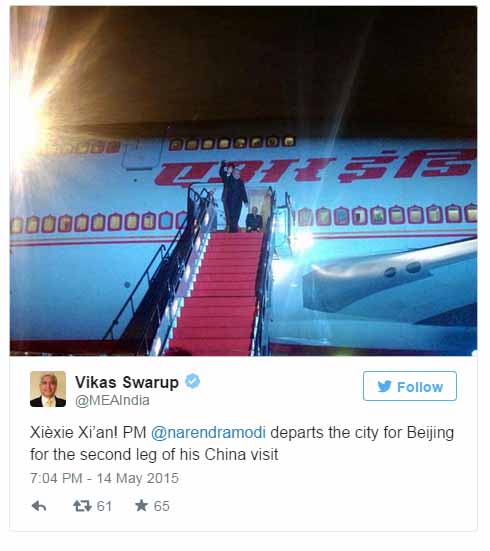 Prime Minister Narendra Modi and Chinese President Xi Jinping held "substantive" summit level talks here on Thursday during which the border issue, trade deficit and connectivity issues were discussed.
The two leaders, who held talks at the Shaanxi Guest House for about 90 minutes, later visited the Wild Goose Pagoda together.
Modi, who arrived here in the morning, was warmly welcomed by Xi at the guest house and the two leaders shook hands for photographs.
The prime minister said he was humbled by the welcome he received at Xi'an and termed it an honour for 1.25 crore Indians he was representing.
Prime Minister Narendra Modi and President Xi Jinping today visited the iconic Giant Wild Goose Pagoda built in 652 AD in recognition of monk Hiuen Tsang's 17-year-long journey to India and his efforts to popularise Buddhism in China.
Modi and Xi visited the Pagoda after holding wide-ranging bilateral talks here.
Prime Minister Modi also gifted a Bodhi sapling to the temple. In turn, the Abbot of the monastery gifted a figurine of Hiuen Tsang, also known as Xuan Zang, to Modi.  Xi and Modi also posed for the photographers while shaking hands in front of the monument. 
Prime Minister Narendra Modi and Chinese President Xi Jinping today discussed ways to strengthen "trust" and maintain peace on border between India and China, whose ties are often soured by the decades-old boundary dispute.
Modi and Xi held substantive talks in this city, the first time a Chinese President has done so outside Beijing, covering various issues ranging from political, economic and global issues like terrorism, UNSC reforms and India's membership of Nuclear Suppliers Group (NSG).
Some time was spent on discussing connectivity issues,issue of terrorism naturally came up: S Jaishankar

Discussions were wide ranging & detailed, atmosphere was very comfortable: Foreign Secy S Jaishankar
It is an honour for 125 crore Indians whom I am representing as Prime Minister: PM Modi to Chinese President Xi Jinping
You received me warmly in your hometown, glad to receive you: Chinese President Xi Jinping to PM Modi
Delegation level talks between PM Narendra Modi and President Xi Jinping on
PM Modi meets Chinese President Xi Jinping
'Adoring' crowd greets PM Narendra Modi in Xi'an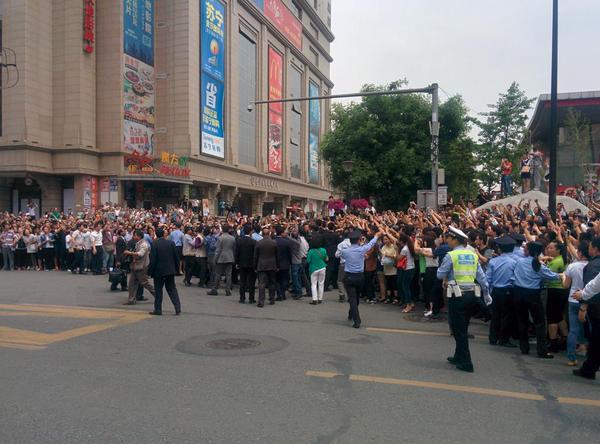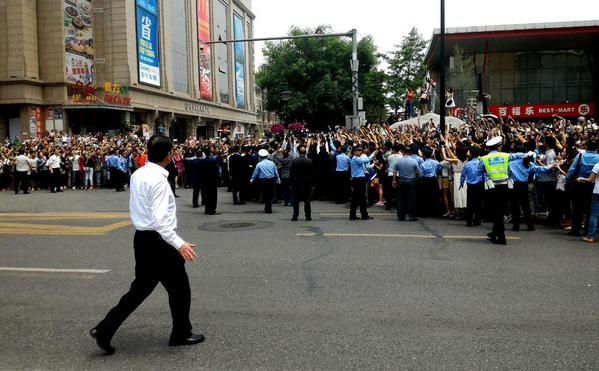 PM Modi is expected to meet President Xi Jinping at around 1 pm today
PM Modi interacts with supporters outside Daxingsha Temple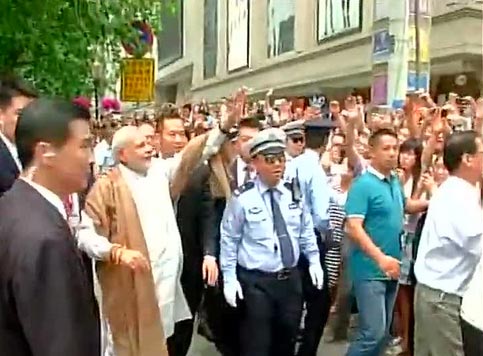 Prime Minister Narendra Modi is looking to clinch $10 billion worth of deals, a leading English daily of China reported on Thursday.
"The two countries are likely to sign deals worth $10 billion during Modi's first visit as prime minister that will also take him to Beijing and Shanghai as he attempts to attract investments for Indian manufacturing and infrastructure," the Global Times said.
Famous Buddhist teacher Dharmagupta came to Xian from Gujarat in 590 CE & translated 12 Sanskrit works into Chinese
After a visit to the Terracotta Warriors Museum at Xi'an, Prime Minister Narendra Modi on Thursday paid a visit to the Da Xingshan temple and offered prayers.
Modi stood with his hands folded in front of massive golden statues of the Buddha as orange-robed monks chanted prayers.
Sutra recitation at Grand Hall of Daxingshan Temple in presence of PM Modi
Traversing centuries. From the 2nd century BCE to 2nd century CE
Daxingshan Temple in Xi'an is one of the oldest Buddhist temples in China
PM Modi prays in Daxingshan Temple in Xi'an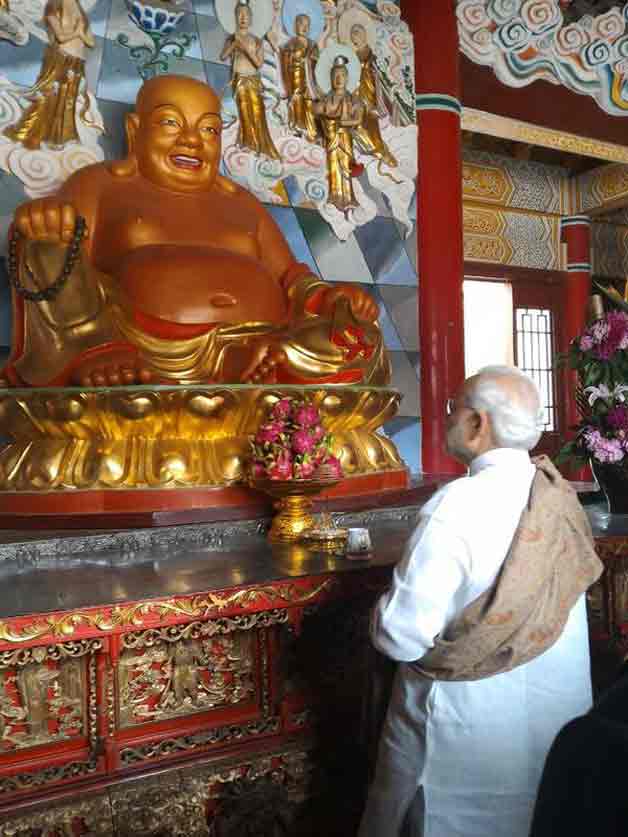 PM Narendra Modi reaches Daxingshan Temple in Xi'an, China
Watch full video of his time in Daxingsgan Temple
PM Narendra Modi signs the guestbook at the Terracotta Warriors Museum in Xi'an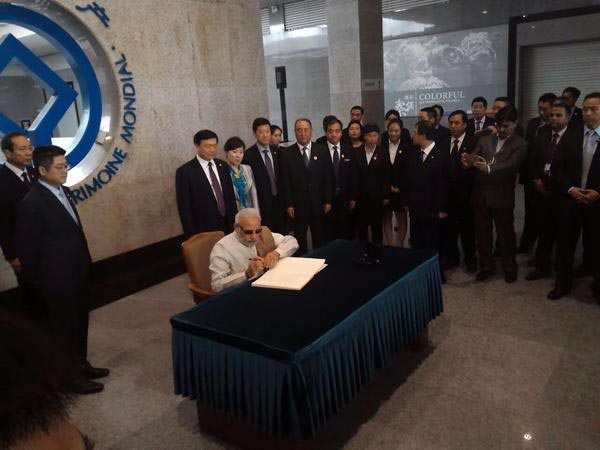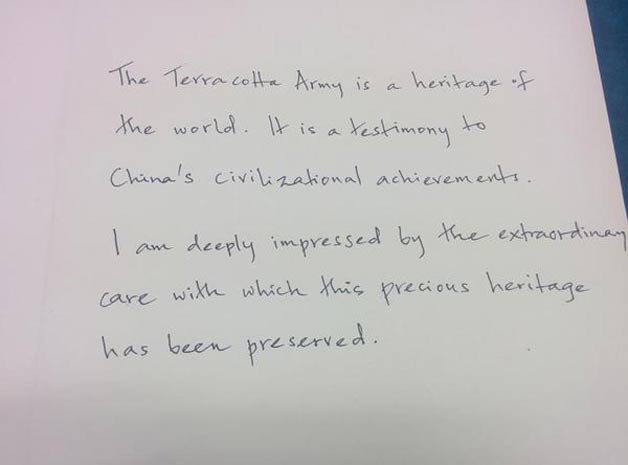 The sculptures were unearthed in an excavation in 1974
The Terracotta (a type of ceramic) troupe comprises of 8000 soldiers, 520 horses and 130 chariots buried in different pits
Terracotta Warriors Museum houses terracotta sculptures depicting armies of 1st Emperor of China
PM Narendra Modi at Terracotta Warriors Museum in Xi'an, China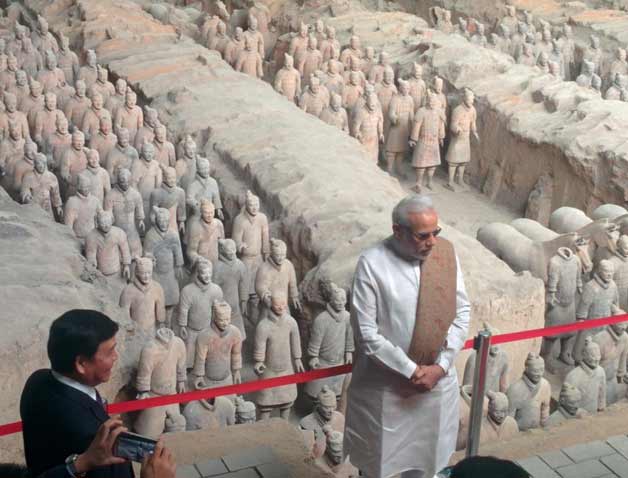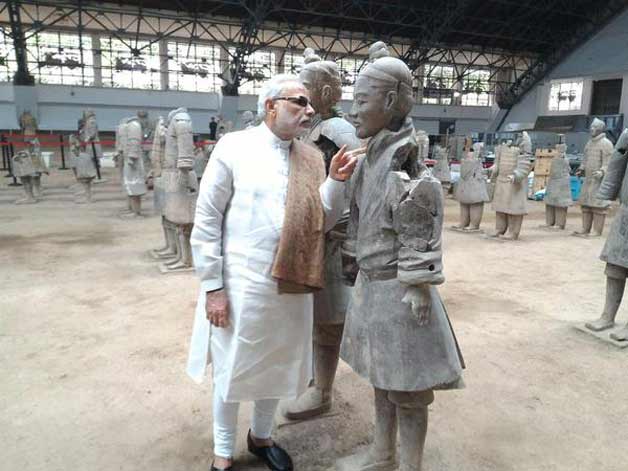 Prime Minister Narendra Modi will be accorded a rare highest-level reception" by President Xi Jinping as the two leaders look to deepen their personal ties, Chinese official media said today.
"Modi will begin his first trip to China since taking office a year ago by visiting the temple where Buddhist monk Xuanzang translated scriptures after an epic 17-year journey to India," a report in the state-run China Daily said.
PM Modi arrives in Chinese city Xian
Xi'an: Prime Minister Narendra Modi on Thursday reached the Chinese city of Xi'an on the first leg of his three-nation tour that will see him visiting China, Mongolia and South Korea.
The Prime Minister was accorded with traditional welcome upon his arrival.
"Not an ordinary city. Not an ordinary welcome. Prime minister being greeted at Xi'an airport," Vikas Swarup, spokesperson of the ministry of external affairs tweeted along with a picture of Modi.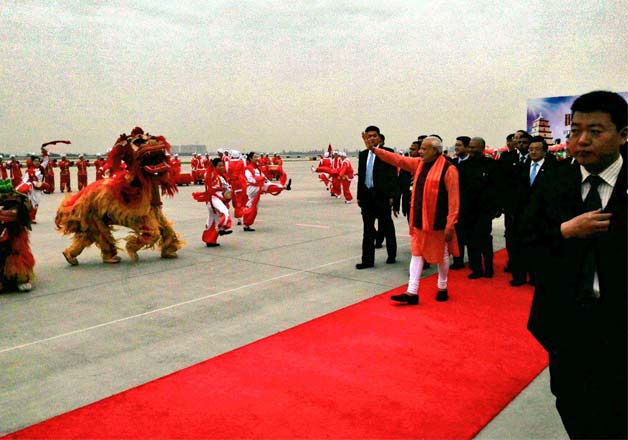 Xi'an is the hometown of Chinese President Xi Jinping.
"I am looking forward to the trip to China... the 21st century belongs to Asia," the Prime Minister told Chinese media ahead of his visit that will also take him to Mongolia and South Korea.
The Prime Minister, who is accompanied by National Security Advisor Ajit Doval, Foreign Secretary S Jaishankar and senior officials, hoped that his visit will "further deepen" India-China relations and set a "new milestone" for Asia and developing countries.
"I believe that my trip to China will not only deepen the China-India friendship, but also set a new milestone for the relations between developing countries in Asia as well as around the world. There is no doubt about that," he told state-run CCTV ahead of this visit.  
Modi said he wants to focus on how India and China can further strengthen mutual trust and confidence, so as to realise the full potential of the relationship.  "I look forward to working out a roadmap for qualitatively upgrading our economic relations and seek greater Chinese participation in India's economic growth, especially in transforming India's manufacturing sector and infrastructure," he said.
The Prime Minister said he believes the relationship between India and China can be one of the most important relationships of the century.
(With inputs from agencies)