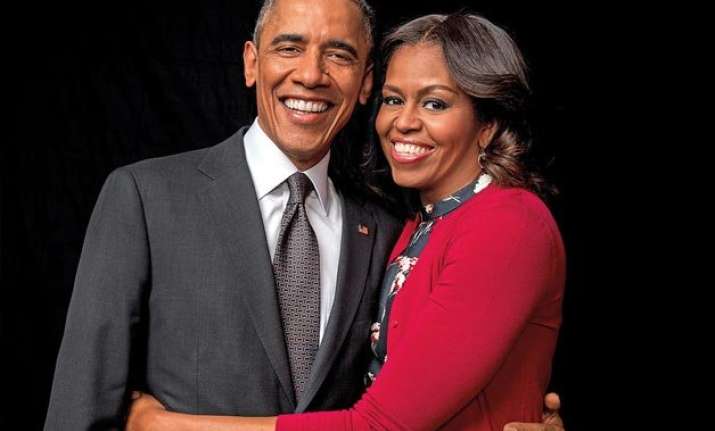 Washington:  US President Barack Obama on tuesday said that last week when he won historic victories on TRADE, healthcare and gay rights - was "gratifying", but his "best week ever", was when he married Michelle, the First Lady.
"In terms of my best week, now my best week, I will tell you, was marrying Michelle. That was a really good week. Malia and Sasha being born, excellent weeks," Obama told reporters at a White House news conference.
Obama was responding a question if last week's two important orders by the Supreme Court was the best week ever.
He was asked: "Some people are calling your best week ever last week. You had two Supreme Court decisions supportive of the Affordable Care Act and of gay rights. You also delivered a speech down in -- in Charleston that was pretty warmly received."
"I've had some good weeks in my life, I will tell you. I'm blessed to have had those. I think last week was gratifying because, number one, we were able to get a package of trade legislation that I believe will serve the American people, American workers and American businesses well, going into the future," Obama said.
"It gives us the opportunity to negotiate high standards agreements that have enforceable labor and environmental provisions," he said.
Though it doesn't solve all the problems, but what it does is signify a sense of empathy and recognition that he thinks is always the start of progress, he noted.
"So in many ways, last week was simply a culmination of a lot of work that we've been doing since I came into office," Obama said.
"How am I going to spend whatever political capital that I've built up? You know, the list is long and my instructions to my team and my instructions to myself have always been that we are going to squeeze every last ounce of progress that we can make when I have the privilege of - as long as I have the privilege of holding this office," said the US President.
And at the end of his joint news conference with his Brazilian counterpart, Dilma Rousseff, Obama came back to the question.
"About last week, I had a chance to do the Rose Garden celebration of the court decision around same-sex marriage. I did not have a chance to comment on how good the White House looked in rainbow colors," he noted amidst laughter.
"That made it a really good week. To see people gathered in an evening outside on a beautiful summer night and to feel whole and to feel accepted and to feel that they had a right to love, that was pretty cool. That was a good thing," he said.
"That was a good thing. The only bad part about it was I couldn't go out and peek at it myself because then I would have had to clear out all the people, or the Secret Service would have. So I could only reflect on it from a television screen. That's a moment worth savoring," Obama said.