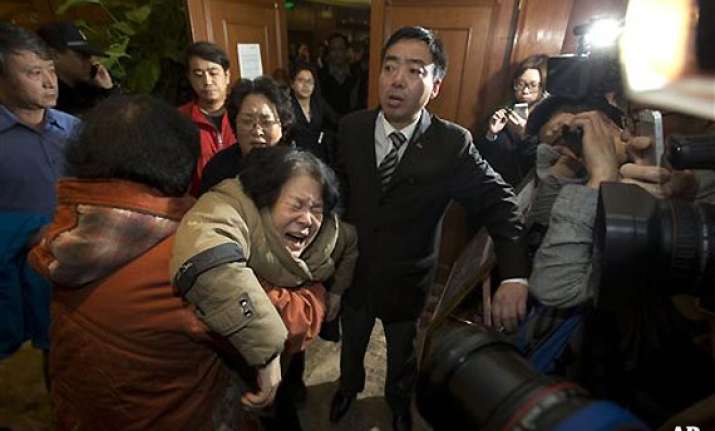 Kuala Lumpur: Malaysia Airlines CEO Ahmad Jauhari Yahya said here Tuesday that families of the those on board the airliner that went down in the southern Indian Ocean would be taken to the recovery areas if they so wished but only after investigating authorities' approval.
"Until that time, we will continue to support the ongoing investigation," he said.
Yahya said the company's overwhelming focus would still be to provide the families with a comprehensive support programme, Xinhua reported.
He said an initial financial assistance of $5,000 per passenger has been provided, and the airlines was preparing to offer additional payments as the search continued.
Md Nor Md Yusof, chairman of Malaysia Airlines, also said that the company would continue to support the families and the authorities as the search for definitive answers continued.
Malaysia Airline flight MH370 vanished mysteriously about an hour after taking off from Kuala Lumpur shortly after midnight March 8.
The plane was scheduled to land in Beijing the same day. The 226 passengers on board included five Indians, 154 Chinese and 38 Malaysians.
The plane lost contact along with its radar signal when it was flying over the air traffic control area of Ho Chi Minh City in Vietnam.
At a press conference in Kuala Lumpur Monday, Malaysian Prime Minster Najib Razak said British investigators from its Air Accidents Investigation Branch (AAIB) have confirmed flight MH370 "ended in the southern Indian Ocean".
"Based on their new analysis, Inmarsat and the AAIB have concluded that MH370 flew along the southern corridor, and that its last position was in the middle of the Indian Ocean, west of Perth," he added.
Malaysia Airlines, in a statement to the relatives of all those on board, stated: "We deeply regret that we have to assume beyond any reasonable doubt that MH370 has been lost and that none of those on board have survived... we must now accept all evidence suggests the plane went down in the Southern Indian Ocean."
It, however, stated that the ongoing multinational search operation would continue, "as we seek answers to the questions which remain".