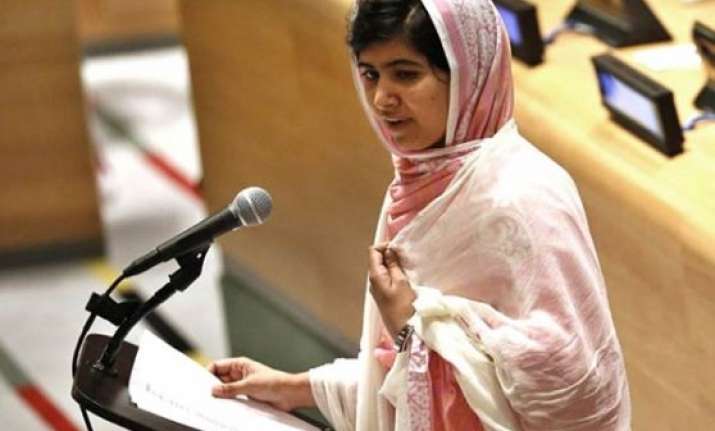 New York: Nobel Peace Prize winner Malala Yousafzai, Obama's daughters and Joshua Wong, the face of the Hong Kong protests against China have been named by Time magazine among its list of the 25 most influential teenagers of 2014.
"Teens today might have a mixed reputation, but there's no denying of their influence. They command millions of fans on Twitter and Vine, start companies with funds they raised on Kickstarter, steal scenes on TV's most popular shows, lead protests with global ramifications, and even win Nobel Peace Prizes," Time said as it analysed factors like social-media followings, cultural accolades and business acumen to compile the list.
The youngest on the list is 13-year-old Mo'ne Davis of Pennsylvania, a female baseball player who appeared on the cover of Sports Illustrated.
Obama's daughters Sasha (13) and Malia (16) are also on the list.
"A lot of dads get squeamish about their daughter's first prom, but only Malia Obama's date status could be called "classified information", as the President joked," on TV earlier this year.
Time said the elder Obama sibling has emerged as a figure of national interest and her appearance at Chicago's Lollapalooza Music Festival caused almost as much of a stir as the musicians themselves.
While Malia's name has spiked in popularity after her father's election, Sasha has become an icon in her own right.
Wong, 18 has become the face of the Hong Kong protests, a civil disobedience movement demanding that China stages unfettered elections for Hong Kong's top political position.
"To some, he's a symbol of hope-a youth rallying his peers to fight for a cause they believe in. In mainland China, however, many argue Wong is an extremist and an emblem against China's storied national order," Time said.
Jazz Jennings, 14, has been lauded by Time for her support towards transgender rights. Jennings started living as a girl at the age of five.
She co-wrote a children's book, 'I Am Jazz', loosely based on her life that aims to help other kids understand what the term 'transgender' means.