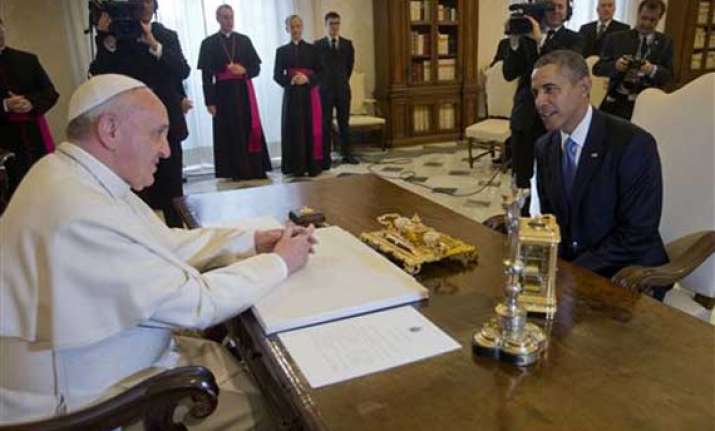 Vatican City:  President Barack Obama called himself a 'great admirer' of Pope Francis as he sat down at the Vatican on Thursday with the pontiff he considers a kindred spirit on issues of economic inequality.
Their historic nearly hourlong first meeting comes as Obama's administration and the church remain deeply split on issues of abortion and contraception.
Obama arrived at the Vatican amid the pomp and tradition of the Catholic Church, making his way to greet the pope after a long, slow procession through the hallways of the Apostolic Palace led by colorful Swiss Guards and accompanied by ceremonial attendants.
The president bowed as he shook hands with the pontiff in the Small Throne Room, before the two sat down at a wooden table in the Papal Library.
"It is a great honor. I'm a great admirer," a broadly grinning Obama said. "Thank you so much for receiving me."
The two were scheduled to meet for half an hour, but their private discussion lasted 52 minutes.
Obama seem buoyed by the meeting as they emerged and the pope greeted a handful of Obama's senior advisers. Catholic Secretary of State John Kerry pronounced himself "a great admirer of everything you've been doing, as a Catholic, for the church."