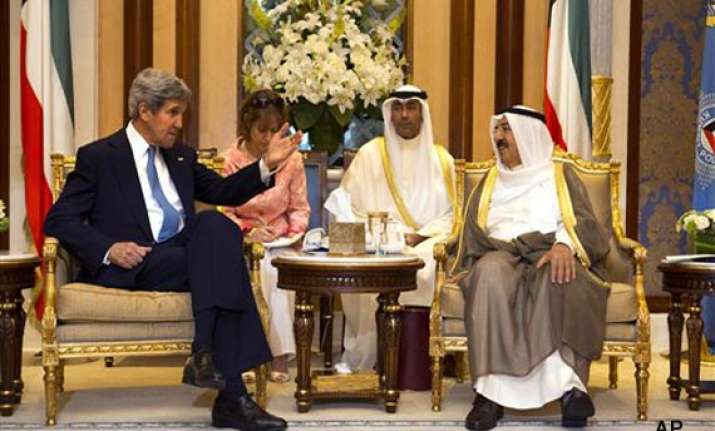 Kuwait City, Jun 26: Secretary of State John Kerry says he's set no ad hoc deadline for making concrete progress in talks between Israel and the Palestinians that he's continuing this week, but that long before September there needs to be some kind of progress shown.
The U.N. General Assembly reconvenes in September and if attempts at reaching an accord between the two sides fail, the Palestinians have said they'd pursue a strategy of international recognition on their own. U.N.
General Assembly voted overwhelmingly in November to upgrade the Palestinians from U.N. observer to non-voting member state.
Kerry is heading to Amman, Jordan, which he will use as a base for diplomacy with Jordanian, Israeli and Palestinian officials.
Kerry spoke Wednesday during a news conference with Kuwait's emir, Sheik Sabah Al Ahmed Al Sabah.
Kerry has been shuttling between the Israelis and the Palestinians in search of a formula to restart talks. So far, there have been no signs of a breakthrough.
Later on Wednesday, Kerry heads to Amman, Jordan, which he will use as a base for diplomatic talks with Jordanian, Israeli, Palestinian and other officials.
It is Kerry's fifth visit to the region since becoming secretary of state earlier this year.
"The time is getting near where we need to make some judgments. Last time, I was here, I said it's time for leaders to make some hard decisions," Kerry said.
"That stands. It is time. Why is it urgent? It's urgent because time is the enemy of a peace process." He added.
"I don't want to trap myself or any of the principals in this with arbitrary—or somewhat ad hoc time limits," Kerry said.
But he added: "Long before September we need to be showing some kind of progress in some way. ... That's why I'm here for this visit and I hope it can be productive."