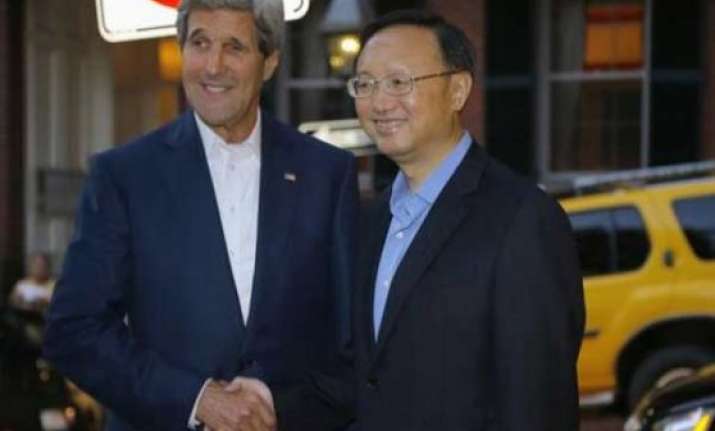 Washington: US Secretary of State John Kerry held talks with visiting top Chinese diplomat Yang Jiechi at his private residence in Boston, kicking of their two days of talks aimed at easing tensions between the two countries.
"Secretary Kerry hosted Chinese State Councilor Yang Jiechi to a small dinner at his private residence in Boston for discussions about the bilateral relationship and important regional and global issues," a Senior State Department Official said yesterday.
Kerry and Yang used the dinner for informal and in-depth discussions and to speak frankly about ways to strengthen the bilateral ties, improve cooperation on global and regional issues, and better manage differences, the official said.
The two leaders will meet again today to continue their discussions, the official said.
At the Pentagon, the Deputy Secretary of Defense Bob Work met Lt Gen Wang Guanzhong, Deputy Chief of the General Staff of the People's Liberation Army (PLA).
"The two noted the constructive spirit of yesterday's US -China Defense Consultative Talks and the inaugural round of the US Joint Staff-PLA General Staff Strategy Talks," Pentagon Spokesperson Lt Cmdr Courtney Hillson said.
"The Deputy Secretary emphasized the importance of sustained and substantive dialogue and concrete and practical cooperation to develop the bilateral military-to-military relationship. The two leaders discussed common security challenges in Asia and globally," Hillson said.