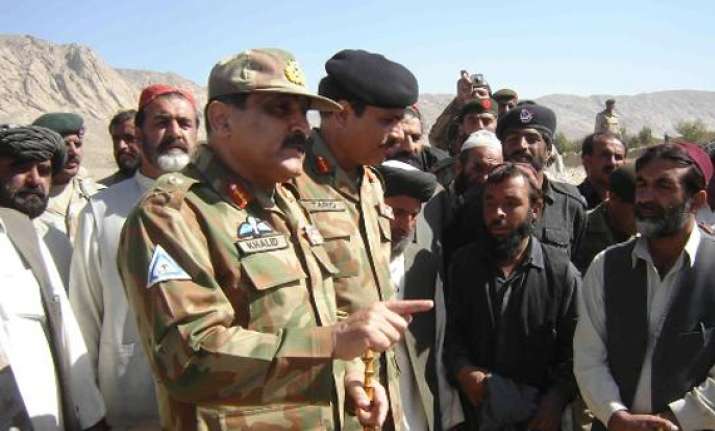 Islamabad, Jun 16:
Stability in South Asia will remain a "distant dream" as long as the Kashmir issue remains unresolved and Pakistan must strive for a "just solution" of the dispute, the country's second-highest ranking military official has said.
"I must... point out that as long as the regional disputes, specially Kashmir, remain unresolved, stability will remain a distant dream."
"We must therefore continue for a just solution of the Kashmir dispute as it is only fair to all the people who dwell in this region," said Gen Khalid Shameem Wynne, the Chairman of the Joint Chiefs of Staff Committee.
Wynne, a four-star general, made the remarks while speaking on regional peace and stability during an address at a graduation ceremony at the National Defence University yesterday.
The Kashmir issue is part of the dialogue process that was resumed by India and Pakistan last year after a gap of over two years in the wake of the 2008 Mumbai attacks. The two countries have made considerable progress in normalising trade ties but have been unable to make any breakthrough in more contentious issues like the military standoff on the Siachen glacier and the dragging Kashmir issue.
Wynne also made a tacit reference to the strained relations between Pakistan and the US, saying Islamabad would not accept any pressure while sticking to its principles. Since last year, the two countries have struggled to put their relationship on an even keel following a series of crisis.
Pakistan-US ties plummeted to a new low after a CIA contractor shot dead two men in Lahore, Osama bin Laden was killed in a unilateral American raid in Abbottabad and 24 Pakistani soldiers died in a cross-border NATO air strike.
Noting that Pakistan had "every intention of preserving its territorial integrity", Wynne said, "We seek nothing beyond secure frontiers and pose no threat to any country and will accept no pressure for standing up for our principles".
In an apparent response to calls from the US to do more to tackle terrorism and to act against militant safe havens in the tribal belt bordering Afghanistan, Wynne said: "We are combating wholeheartedly the menace of extremism and terrorism from our society.
"The people and the armed forces of Pakistan have taken up this challenge and our soldiers as well as innocent civilians are sacrificing their lives for this cause". The general's comments came against the backdrop of a recent intensification of tensions between Islamabad and Washington.
Defence Secretary Leon Panetta, during a recent visit to India and Afghanistan, said the US intended to continue its drone campaign in Pakistan.
Panetta further said that the US was "reaching the limits of our patience" with Pakistan. After last year's NATO attack, Pakistan closed supply routes to Afghanistan.
Pakistan and the US have been unable to finalise a deal to end the six-month blockade, largely due to Islamabad's insistence on an apology and differences over fees to be paid for trucks passing through Pakistani territory.  Wynne also spoke on the challenges facing Pakistan.
"The security environment we face today and into the future is increasingly fluid and shaped by a dynamic mix of continuing and emerging challenges and opportunities," he said.
"The concept of national security has evolved and broadened to include non-traditional threats such as transnational crime, natural disasters and pandemics," he added.