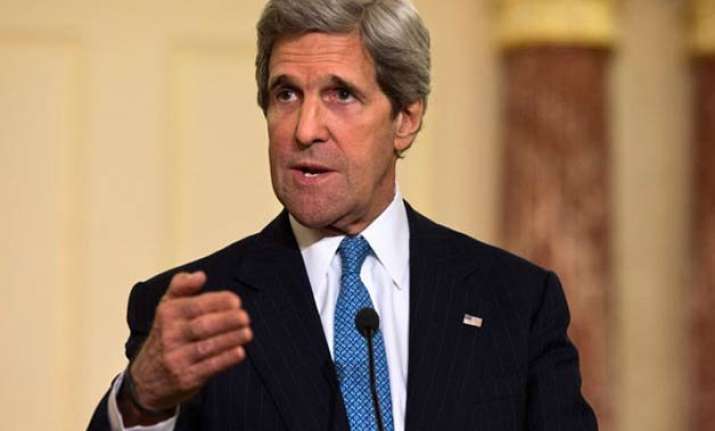 Colombo: US Secretary of State John Kerry arrived here today on a two-day visit to express support to the new Sri Lankan government's efforts to boost democracy, human rights and ensure reconciliation with Tamils.
Kerry, the first US secretary of state to visit Sri Lanka in a decade, was received at the Colombo international airport by his Lankan counterpart Mangala Samaraweera.
The top American diplomat will meet President Maithripala Sirisena and Prime Minister Ranil Wickremesinghe.  He will also meet with the leaders of main Tamil party, TNA, and the civil society representatives.
The US expects Lanka to allow the journalists to express freely and return the lands of Tamils in the north acquired by the state for military purposes. It appreciated the new government's engagement with the UN Human Rights Council and the willingness shown to invite UN special rapporteurs.
Kerry's visit comes following years of strained relations between the US and Lanka's previous government led by Mahinda Rajapaksa.
Rajapaksa had faced criticism from the West for refusing to cooperate with a probe into alleged war crimes committed during a crackdown on the LTTE.
Lanka under Rajapaksa was subjected to three consecutive US-backed UN Human Rights Council resolutions, the last of which mandated an international inquiry on alleged rights abuses committed by both government troops and the LTTE.
Colin Powell was the last US State Department chief to visit Sri Lanka in 2004 in the aftermath of the deadly Indian Ocean Tsunami.
The Sirisena government has opted for a domestic mechanism much to the displeasure of the Tamils. They feel given past experience Sinhala majority governments' attitude towards the minority, the domestic investigation may end up as an eye wash.
The US is expected to press the Sirisena government for a credible local mechanism.
"It is a real opening in terms of Lanka's relations with the international community and with the UN," a US State Department spokesman yesterday in Washington, commenting on Kerry's visit.