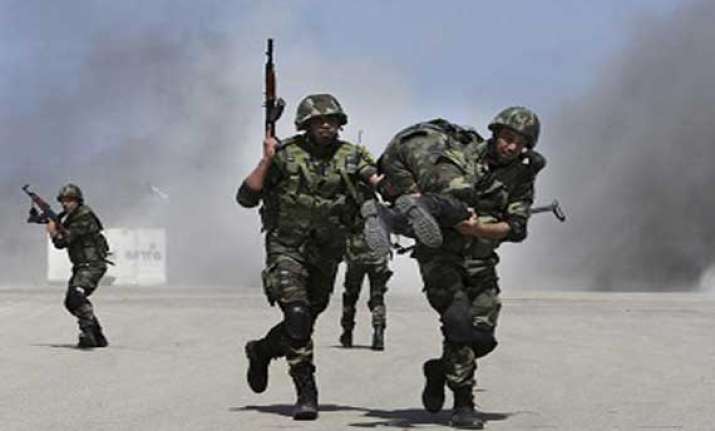 Jerusalem: A strike in central Gaza on Monday afternoon targeted Army of Islam militants who were plotting an attack against Israel in the near future, Israel's military and Shin Bet security service said.
An aircraft, acting on intelligence provided by Shin Bet, targeted the gunmen while they were riding in a car in Gaza City, and that a direct hit was confirmed, Xinhua quoted a military spokesperson in Tel Aviv as saying.
The three militants killed in the attack were identified as Ahmed al-Dali and brothers Bassam and Ahmed Hajazi, Israeli daily Ha'aretz reported, citing Palestinian media and health officials. Seven other people were reported to have been wounded.
Established in Gaza eight years ago, Army of Islam, which is believed to draw inspiration from Al Qaeda, was reportedly involved in the capture of Israeli soldier Gilad Shalit in a cross-border raid in 2006 and the abduction of BBC correspondent Alan Johnston in Gaza the following year.
An Israeli airstrike in November 2010 targeted the group's leader, Mohammed Namnam, while he was driving in Gaza City, reportedly foiling a planned attack on multinational security forces in Egypt 's Sinai Peninsula, while two other of its members were killed in a similar fashion that same month.
In a statement on Monday, the Shin Bet said the Army of Islam is closely related to Hamas, receiving support, funding and sponsorship from the latter.
The targeted strike came as rockets and mortar shells from Gaza continued raining down on southern Israel throughout Monday, with over 100 projectiles hitting cities and border communities, 13 of which were intercepted by the Iron Dome defence system.
In one of the latest barrages in the evening, 16 mortar shells were fired within 10 minutes, landing in towns near the border but failing to cause injuries or damage.
Nearly 900 rockets and mortar rounds have been launched from Gaza toward Israel since a ceasefire collapsed last Tuesday, the Israeli army said Monday night. The majority have been fired into southern Israel, though dozens have been launched toward central Israel, including two rockets intercepted over the Jerusalem area Sunday night.
Israeli counter-strikes Monday reportedly killed a dozen Palestinians in Gaza, including three women, Gaza medical officials and witnesses said.
Earlier Monday, media reports quoted a senior Palestinian official as saying that an announcement of a ceasefire was likely imminent, after armed Gaza factions, including Hamas and Islamic Jihad, were reportedly prepared to accept an Egyptian proposal to halt fire indefinitely, but by early afternoon, a senior Hamas official dismissed the reports.