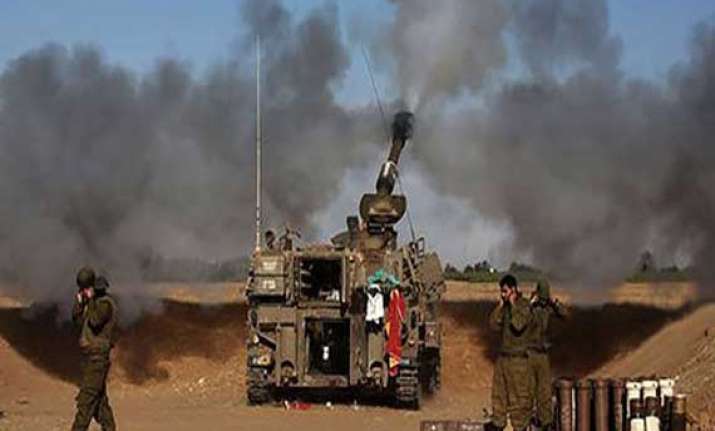 Gaza/Jerusalem: In a dramatic escalation of the 10-day conflict, Israel today launched its first ground offensive in five years in the Hamas-ruled Gaza Strip with artillery and tanks, after airstrikes that have killed 265 Palestinians so far failed to stop the militants' rocket attacks on the Jewish state.
Israeli forces backed by artillery and airstrikes launched the ground offensive last night with the army saying the objective is to strike a "significant blow to Hamas' terror infrastructure."
Israeli Prime Minister Benjamin Netanyahu said the military was targeting the Hamas tunnel network, which it could not do "only from the air".
Thousands of troops moved into parts of Gaza last night, supported by tanks and artillery fire.
Hamas, which has controlled the densely populated coastal strip area since June 2007 after ousting rival Fatah in a bloody battle, warned that Israel would pay a "high price" for the ground incursion.
"Following 10 days of Hamas attacks by land, air and sea, and after repeated rejections of offers to de-escalate the situation, the IDF has initiated a ground operation within the Gaza Strip," a statement from the Israeli army said.  
The Israeli Defense Forces (IDF) said the goal was to "establish a reality in which Israeli residents can live in safety and security without continuous indiscriminate terror." Israeli Army spokesman Gen Moti Almoz issued an appeal asking "the residents of Gaza to evacuate the areas in which the army is operating. This operation will be extended as much as necessary."
Since midnight, 24 Palestinians have been killed by Israeli fire across Gaza, including three teenagers and a five-month-old baby, raising to 265 the number of Gazans killed since Israel launched its attacks on July 8.  An Israeli soldier was killed in the northern Gaza Strip following a night of heavy fighting.
At least 1,920 Palestinians have also been wounded.
Israeli jets have struck over 2,000 targets in Gaza.  In response, Palestinian militants fired more than 1,500 rockets since the fighting began, targeting all of Israel and killing one Israeli civilian and injuring four soldiers.  
There had been a five-hour humanitarian truce yesterday, but exchanges of fire resumed when it ended.  Israel withdrew ground troops from Gaza in September 2005, and last mounted a major ground operation in 2009.  
Egypt, after failing to convince Hamas to agree to a ceasefire that Israel had accepted, sharply criticized the Islamist faction saying the group could have saved dozens of lives had it accepted a Cairo-mediated truce.
Hamas had rejected the ceasefire intended to start on Tuesday and continued firing rockets at Israeli cities.