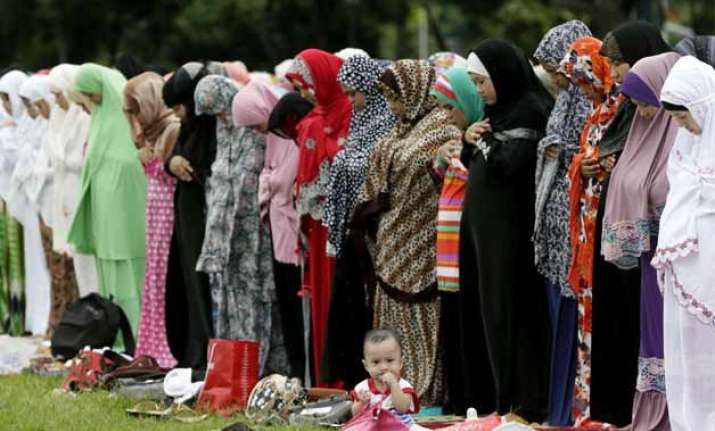 New Delhi:  The latest issue of the Islamic State's English language magazine "Dabiq" makes for terrifying reading. One of the articles titled "Slave-girls or prostitutes?", purportedly authored by a "Umm Sumayyah al-Muhajirah" goes as far as defending sex with kidnapped Yazidi girls.
The author is supposedly a bride whose husband took a Yazidi girl as a slave. It goes on to claim that sex with kidnapped Yazidi girls is never rape because it is an Islamic practice. The article even makes a reference to US first lady Michelle Obama, saying that Obama's price may be third of a dinar, and that too is too much.
The Full aritcle is reproduced below: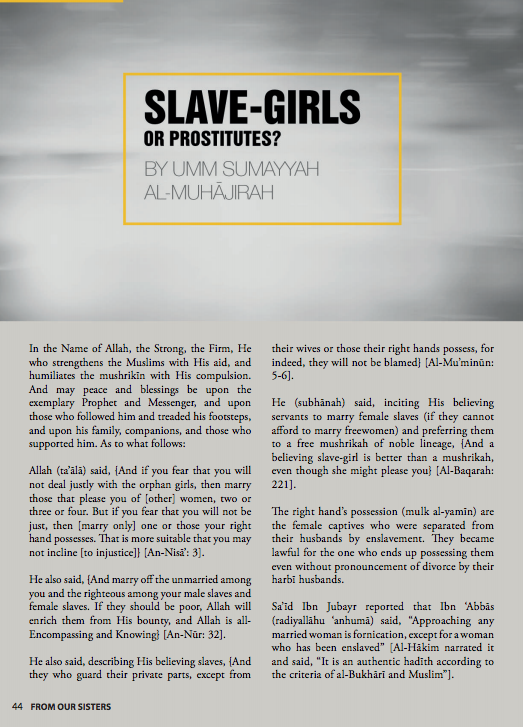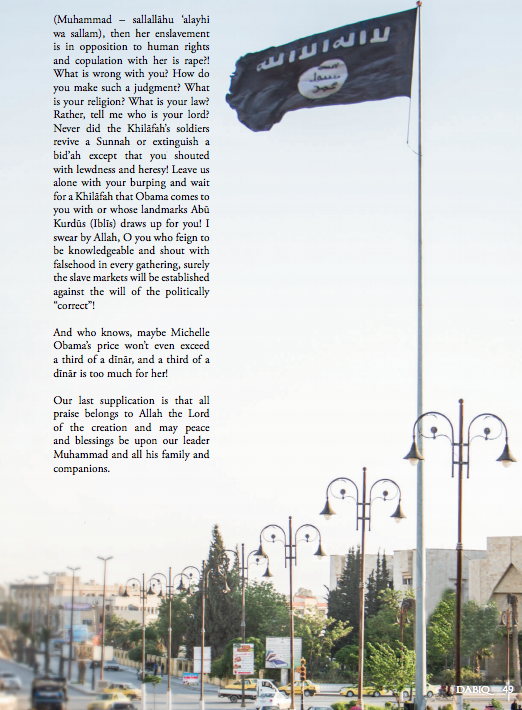 Articles like this have shed light on the Islamic State's treatment of women, and the use of Islamic theology that is widely rejected by the Muslim world as a perversion of the teachings of Islam.
A recently report by the the Special Representative of the United Nations Secretary-General on Sexual Violence in Conflict, Zainab Bangura, noted that sexual violence is being committed strategically, in a widespread and systematic manner, and with a high-degree of sophistication by most parties to the conflict in Syria and Iraq.
"Women and girls are at risk and under assault at every point of their lives," Ms. Bangura declared, emphasizing that the threat of brutality followed them "every step of the way...in the midst of active conflict, in areas under control of armed actors, at check-points and border crossings, and in detention facilities."
Ms. Bangura's trip lasted from 16 to 29 April and took her to Syria and Iraq, as well as to neighbouring countries of Turkey, Lebanon and Jordan, where she met directly with women who escaped the Islamic State of Iraq and the Levant (ISIL) captivity and survived sexual violence.
She pointed to instances of forced, temporary and early marriage and described how such practices were encouraged for fighters as part of Jihad and used as a "protection" mechanism for families with no other means of providing for or ensuring safety of young girls. She also noted the sale of women for sex.
"Girls are literally being stripped naked and examined in slave bazaars," she said, describing how they were "categorized and shipped naked off to Dohuk or Mosul or other locations to be distributed among ISIL leadership and fighters."
She listed examples of the horrors suffered by women, including one who had been temporarily married over 20 times, after each occasion forced to undergo surgery to repair her virginity.
"ISIL have institutionalized sexual violence and the brutalization of women as a central aspect of their ideology and operations, using it as a tactic of terrorism to advance their key strategic objectives,"
she said, going on to describe how women were promised to fighters and how ISIL raised funds through trafficking, prostitution and ransoms.
Sexual violence was used to displace populations, to punish, humiliate and demoralize dissenters, to extract information for intelligence purposes and to dismantle social, familial and community structures in order to construct a new "Caliphate."
Disclaimer: The article was first published in 'TheCitizen'. India TV does not assume any responsibility or liability for the same.