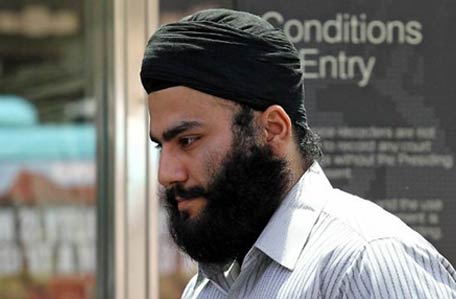 An Indian driver in Australia  23-year-old Amrik Singh Thind  has been jailed for more than three years over a crash that led to the death of an unborn baby, says a media report.
Amrik Singh was driving erratically when he hit a four-wheel drive, which in turn crashed into an oncoming car driven by Hannah Robert in suburban Oakleigh on December 27, last year.
Robert, who was eight months pregnant, lost her unborn baby in the crash. 
Thind pleaded guilty to five counts of dangerous driving causing serious injury and one of failing to stop after an accident.
He was jailed for three years and five months with a minimum of two years and three months.
Victorian County Court Judge Meryl Sexton said his driving was dangerous, aggressive and erratic and put people at risk.
She said a victim statement by Ms Robert was eloquent and powerful.
"No one could fail to respond to the devastation of this couple losing their baby girl shortly before she was to be born," she said.
Robert's statement told the court how for a long time she "wondered whether  I had died and started a new, different life, because everything was so unrecognizable, including my own body and personality".
"Just seeing a car accident on TV grips me with terror and leaves me crying. Big 4WDs still frighten me. The sound of ambulances, lying on my back, sitting in a car, putting my right hand to my head - all these things trigger shock and trauma.
"It is a marathon effort to get dressed, to get to work, to try and bring my mind to a task. The scars on my legs, arm, head and abdomen remind me every day of what it feels like to be crushed by broken metal.
"But the biggest impact is the least measurable - it is the growing space that our daughter would have had in our lives, had she survived.
Robert said "it seems so strange that all these possibilities - a whole lifetime's worth of them - could have disappeared in one stupid moment on Warrigal Road on 27 December last year"
"I don't know, if I'll ever get my head around it. To the defendant - I sincerely hope you never have to go through sorrow like this, but I also hope that you never cause anyone else such sorrow."
Thind is disqualified from driving for four-and-a-half years.