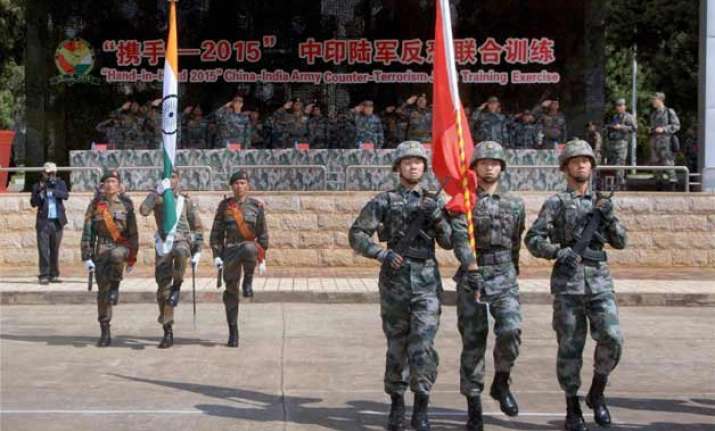 Beijing: Over 300 troops of India and China today concluded their fifth round of military exercises, holding for the first time simulated anti-terror drills at the borders as the PLA evinced interest in expanding military ties with India.
A video footage of the drill conducted at a border village released by the Indian Defence Ministry showed the Indian Army and the People's Liberation Army engaged in a combined mock operation raiding and seizing a terrorist camp.
Summing the 10-day exercises between the troops from the border regiments, Maj Gen Zhang Bing, Deputy Chief of Staff of Chengdu Military Command said that the exercises demonstrated the will of the two militaries to deal with terrorist threats and cooperate with each other to create a good environment for development.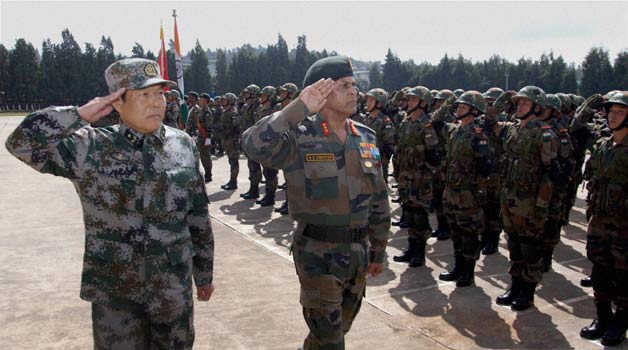 "It shows the power of both countries to fight terrorism together and highlights the determination and vision of both countries to maintain regional security and stability," an Indian Defence Ministry press release said.
"A series of challenging tactical situations were presented to validate the reactions of the sub-units and a very high-level of professionalism and coordination was seen among troops of both the armies," it said.
Zhang's comments followed Chinese Foreign Ministry spokesperson Hua Chunying's remarks at the beginning of the 'Hand in Hand' drills on October 12 that the exercise will play a significant role in safeguarding domestic security and strengthening mutual trust between militaries of both sides.
"We will continue to strengthen our cooperation on national defence and inject more positive energy to our bilateral ties," she had said.
The exercises featuring 175 troops from each side signed off with an impressive closing ceremony where Lt Gen A L Chavan, head of the Indian Observer Delegation, said the intimate understanding and goodwill generated during the exercise will go a long way in further strengthening military bonds between both the armies.
The drills have helped in understanding each others' organisation and conduct of counter terrorist operations, he said.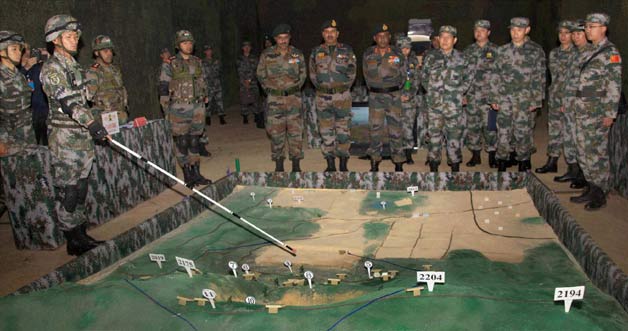 Referring to the exercises majorly conducted in Kunming, the statement said that the joint drill has "met its stated objectives; to exchange experience on counter-terrorist training and conducting counter-terrorist operations, enhance mutual trust and understanding and promote healthy military relations between the two armies.
Officials say that it was significant that both sides chose to do a simulated exercise to unitedly tackle a terrorist attack at a border village considering recent tensions over border stand-offs between the two militaries in the Ladakh region.
Both sides pooled their experiences from anti-terrorism exercises to design special drills as India and China have been battling terror networks for long.
While India has been confronting infiltration of militants in the Kashmir region, Chinese security forces are battling to put down terrorists from East Turkistan Islamic Movement (ETIM) in Xinjiang for the past few years.
The two sides pressed in different contingents every year so that personnel from different commands get exposed to each other.
This year, India pressed in 2nd Battalion of Naga Regiment from Eastern Command which also looks after the border with China while Beijing deployed Troops from 14 Corps of Chengdu Military Region, whose focus is on Indian borders.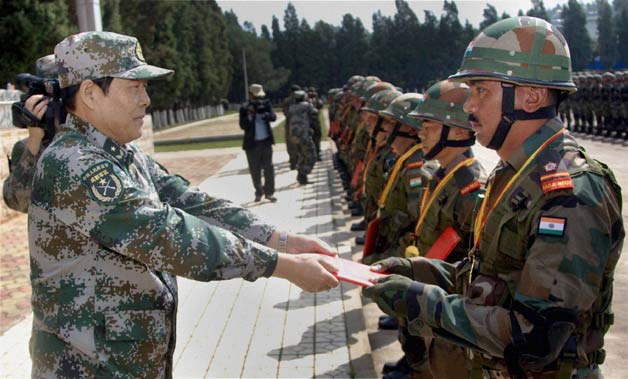 Troops used grenade launchers, mortars, anti-tank missiles, flamethrowers and other arms in the drill. Participants had finished anti-terrorism tasks including practical shooting, tactic cable drop and clearing houses of terrorists in the simulated drills, the press release said.
Zhang said the two countries held five rounds of anti-terrorism exercises.
It shows the power to fight terrorism and highlights determination and vision of the two countries to maintain regional security, stability and have a conducive environment for development, he said.
He said that they were impressed by the professionalism and spirit of the Indian contingent.
The Indian contingent will return home by a military aircraft tomorrow.
The next round of exercises will be held in India in 2016.