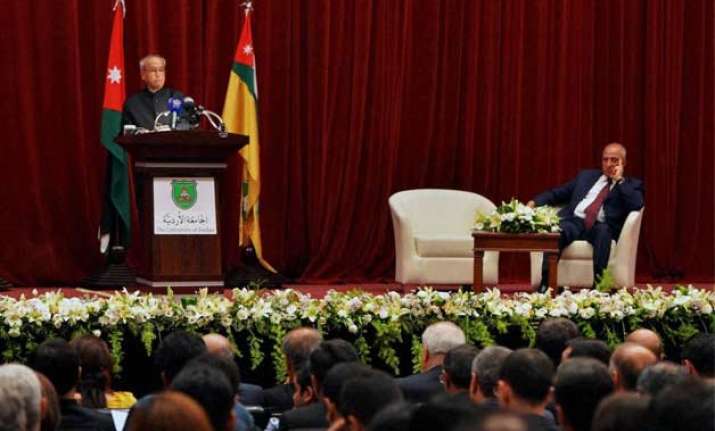 New Delhi: India and Israel will sign a double taxation avoidance pact and explore ways to ramp up engagement in diverse sectors during President Pranab Mukherjee's three-day historic visit to the Jewish state, the first by an Indian Head of State, beginning tomorrow.
Ahead of his visit, Israel said the main focus of the trip will be on "political side" though both sides will deliberate on enhancing ties in a range of areas, while calling the visit marking of a "historic political milestone."
Spokesperson in the Israeli Embassy Ohad Horsandi said the two countries will also ink a pact on cultural exchanges but a number of MoUs planned for signing during Mukherjee's "landmark visit" could not be finalised. Both sides were in talks to ink MoUs on renewable energy and water sector.
The pact on tax avoidance will help plug loopholes in tax evasion and ensure that the Indian or Israeli companies are taxed only where they have permanent establishments.
Mukherjee today arrived in Palestine after concluding his visit to Jordan. He will begin his three day-Israel visit tomorrow during which he will hold talks with President Reuven Rivlin and Prime Minister Benjamin Netanyahu among others.
"The upcoming visit of the President of India, more than being an important milestone in the relationship of the two countries, will serve to deepen the friendship between our states in the fields of economy, science, medicine, and agriculture," the Israeli Embassy quoted President Rivlin as saying.
Ohad said, "The visit marks an historic political milestone as the first such visit by an Indian president to the State of Israel, and this reflects the continued strengthening of relations between the two countries." Asked about Mukherjee's comments in Jordan about India's support to the Palestinian cause, Ohad said he had only reiterated New Delhi position on the issue.
"I do not think there is anything new. The Indian position has been reiterated a number of times by various leaders including the External Affairs Minister. We fully respect that.
"We can only congratulate that the President made very clear distinction between Indian support to the Palestinian cause and the importance of India's relations that he sees with Israel. The two things are not inter-connected," he said.
Mukherjee will visit the Holocaust memorial and participate in a community reception tomorrow, Ohad said.
On Wednesday, he will be accorded a ceremonial reception at the Israeli President's residence after which the two heads of state will hold a working meeting.
Later, President Rivlin will host a state dinner in honour of Mukherjee.
The President is scheduled to address a special plenary meeting of the Israeli Knesset (Parliament) on Wednesday.
The visit will conclude with a ceremony at Jerusalem's Hebrew University, where Mukherjee will receive an honorary doctorate in recognition of his long-time exemplary public service as a leading diplomat and champion of social and financial reform.
India had established "full" diplomatic relationship with Israel in 1992 though it had recognised the country in 1950.
No Indian Prime Minister or President has visited that country so far. Prime Minister Narendra Modi also has plans to visit the Jewish nation.
Asked about Modi's visit, the Israeli spokesperson said it was a subject on the table for both sides. "We have not discussed dates. It will be a visit that will happen...It is on the agenda of both countries."
Pushing for deeper bilateral ties, Ohad said all the governments in India in the last 23 years had favoured stronger ties with Israel.
Asked to comment on reports that Mukherjee wanted to visit the old city area in Israel, he said the idea never came up for discussion.
The two countries are engaged in a range of issues of bilateral interest, including cooperation in agriculture, education, science and technology, and the visit is expected to further cement bonds and enhance mutual understanding.
India-Israel sign pact on criminal matters
India and Israel have signed a pact to cooperate in criminal matters, including execution of summons and warrants by each other's courts.  
The agreement was signed by the two countries days before the visit of President Pranab Mukherjee, who will tour Israel for three days beginning tomorrow as part of his ongoing three-nation trip.
"Arrangements have been made by India with Israel for service or execution of summons or warrant in relation to criminal matters on any person in Israel," a Home Ministry official said.
Similarly, under the pact, if a court in India executes any summons or search warrant receives from a court or magistrate in Israel, the central government will execute the order.
While, India's summons and warrants will be executed by Israel's Ministry of Justice, India's Ministry of Home Affairs will process the request of the Israeli government, the official said.