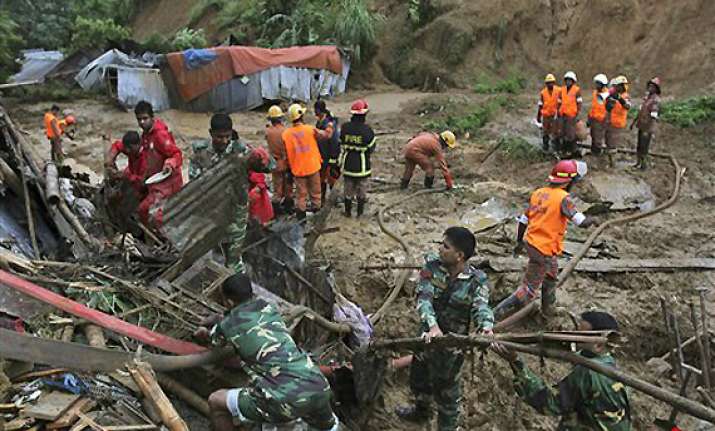 Dhaka, Jun 27: At least 83 people have been killed in massive landslides triggered by torrential rains that lashed southwestern Bangladesh affecting thousands of residents, officials said today.
A total of 76 people were killed overnight while seven had lost their lives yesterday due to landslides that also severed transport links, they said.
"32 deaths alone were reported from Bandarban (hill district) while 17 died in (port city of) Chittagong and 34 in Cox's Bazar as the region witnessed a series of landslides since late Tuesday," an official of Chittagong administrative division told PTI.
A military spokesman in Dhaka said army troops joined the rescue campaigns along with fire brigade rescuers as several more people were feared to be trapped under tonnes of rubble at the scenes of landslides caused by incessant rains for the last three days.
The Deputy Commissioner of Cox's Bazaar told reporters today that those killed in the district were from areas like Ukhi, Ramu and Chaukoria.
Monsoon rains sparked a series of landslides in different places of the Bandarban hill district.
The highest number of deaths -- 23 -- were reported from the rugged Lama area of the district, local reports said.  "The landslides perished at least two families entirely, one having 11 members and another having six at Lama," they said.
According to the state Disaster Management Information Centre, around 50,000 people were affected by the flash floods.
Television footages showed rescuers searching through the thick mud for survivors amid incessant rains that triggered the disaster.