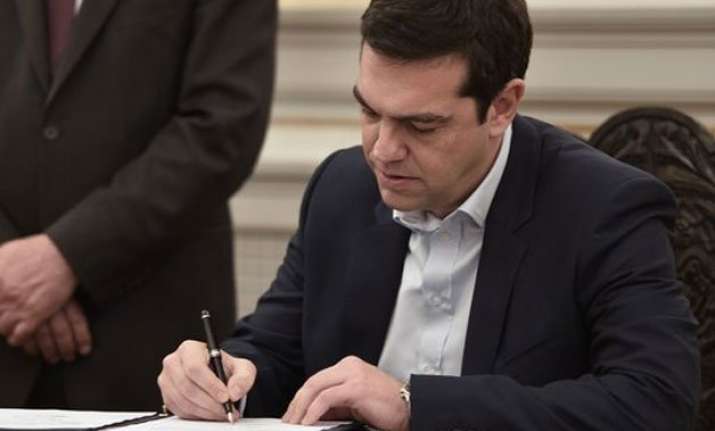 Athens: Prime Minister Alexis Tsipras faced a rising wave of hostility from members of his own party on Wednesday ahead of a parliament vote on an austerity bill that condemns the country to years of spending cuts but is required to get a new bailout package.
The raft of consumer tax increases and pension reforms has led to growing anger among Greece's governing left-wing Syriza party, while the country's civil servants' union voiced its objections with a 24-hour public sector strike.
The vote will almost certainly see large numbers of Syriza lawmakers dissent and vote against the package, raising questions of the government's survival in its current form.
The bill is expected to pass with votes in favor by pro-European opposition parties.
Alternate Finance Minister Nadia Valavani said she would not vote in favour of the bill, and resigned from her government seat.
In a letter she sent Tsipras on Monday morning and released by the finance ministry today, Valavani said she believed the tactics of the "dominant circles in Germany" was "the full humiliation of the government and the country."
Tsipras agreed to a deal after a marathon 17-hour eurozone summit on Monday morning. It calls for Greece to pass new austerity measures his left-wing government had long battled against in return for the start of negotiations on a third bailout worth about 85 billion euros in loans over three years.
The government, a coalition between Syriza and the small right-wing Independent Greeks, holds 162 seats in Greece's 300-member Parliament. More than 30 of Syriza's own lawmakers have publicly voiced objections.
Tsipras has acknowledged the measures he agreed to go against his election pledges to repeal austerity, and described them in a Tuesday night television interview as "irrational."
But he said he had no option if he was to prevent Greece's financial collapse.
The International Monetary Fund, which was involved Greece's previous two bailouts and will also play a role in the third, has long advocated the country's debt is too high and that any deal must include debt relief, something the Greek side has also insisted on.
In a report released late yesterday, the IMF said Greece's debt was now "highly unsustainable" and would reach "close to 200 per cent of GDP in the next two years."
The European Union's executive Commission today echoed that analysis, saying there are "serious concerns" about the sustainability of Greece's debt due to a worsening in the economy.
The Commission says in a report that its main forecasts are for debt to reach 165 percent of GDP in 2020, 150 percent in 2022 and 111 percent in 2030.