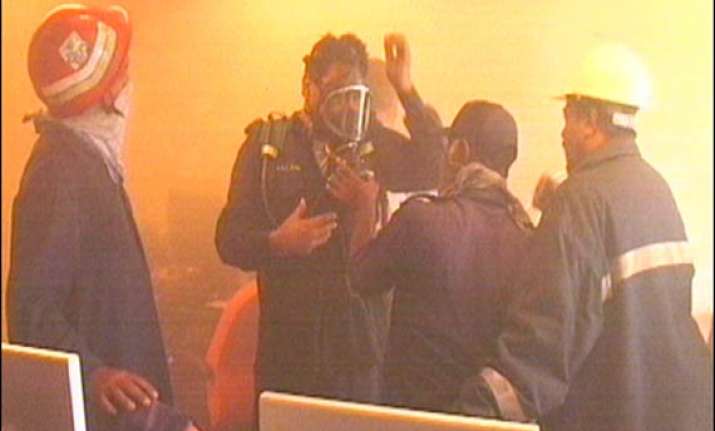 Karachi, May 21: The main studio, production control room, central news room and other sections of Pakistan's leading news channel Geo News were gutted in a devastating fire that engulfed the channel's head office here on Saturday.
 
The transmission of the channel was  stopped for nearly 45 minutes, after which transmission resumed from a temporary setup, the owners said.
 
 After hours of struggle, the fire was brought under control. Two staffers of Geo News who were affected by the fumes were rushed to Civil Hospital.
 
The blaze gutted the main studio, central news room, control room, PCR, satellite department, server room while many other installations were also severely damaged.

According to Geo News administration, the fire broke out inside the studio of the famous program "Aaj Kamran Khan Ke Saath" in Jang building situated along I.I. Chundrigar Road at 2:10 PM. Geo's staff jumped in and began the effort to overcome the blaze on their own.

As soon as the studio's door was opened, the smoke trapped inside it quickly spread across the entire floor and the staff present there was immediately evacuated followed by the staff of accounts department, HR department, daily Jang Karachi, daily Awam Karachi, daily Jang London, Akhbar-e-Jehan and other sections.

As a result of the incident, transmission of Geo News had to be suspended while other activities were also affected.

Soon after receiving the report of the blaze, the fire tenders and snorkel from the nearby fire brigade reached the site of Geo building besides the staff of emergency and rescue services including Edhi Foundation Trust, Chhipa Welfare and other NGOs and started providing their services.

The fire-fighting work continued for hours under the supervision of City District Government's EDO Municipal Services Masood Alam.

Geo News, after suspension of its transmission for 45 minutes, began airing moment-to-moment news updates for its viewers from its temporary set up.