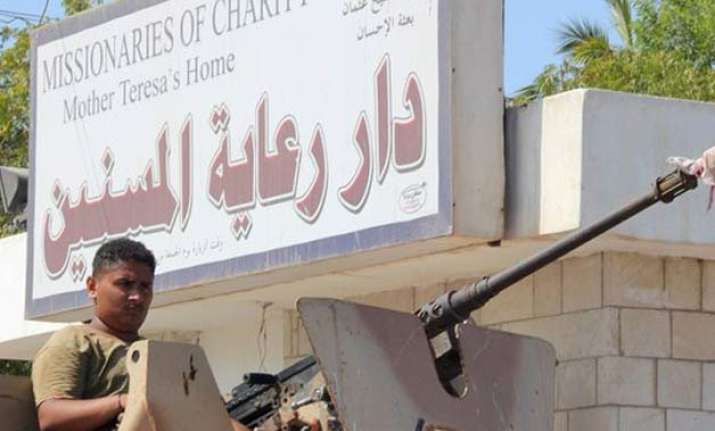 Aden: Four Indian nuns of the Missionaries of Charity are suspected to be among the 16 people who were killed by gunmen who stormed an old people's home in the Yemeni port city of Aden on Friday, agencies reported.
The Indian government said it was trying to ascertain reports about the Indian nuns being gunned down. "We have seen the reports and are trying to ascertain the details of Indian victims," Vikas Swarup, spokesperson for the External Affairs ministry said. There is no official mission in the country, making it difficult for details to flow in.
The motive of the gunmen was not immediately known. They fled after the attack, an official said. Though no group has claimed the attack, the first of its kind in Yemen, but the attackers are believed to be "extremists" from the Islamic State.
One nun who survived and was rescued by local residents said she hid inside a fridge in a storeroom after hearing a Yemeni guard shouting "run, run".
Meanwhile, External Affairs minister Sushma Swaraj has appealed to Indians living in the region to return to India till the situation gets better.  
Four gunmen, who told a guard they were on a visit to their mother, entered the home with rifles and opened fire. While two gunmen surrounded the home, the others moved from room to room, handcuffing victims and shooting them in the head.
In addition to the four Indian nuns, six Ethiopians, a Yemeni cook and Yemeni guards were among the dead. The bodies of the dead were transferred to a clinic supported by the Medecins Sans Frontieres.
There are around 80 residents in the retirement home run by the Missionaries of Charity, an organisation established by Mother Teresa. Missionaries of Charity nuns were also attacked in Yemen in 1998, when gunmen killed three nuns in the port city of Hodeida.
Aden descended into lawlessness after a Saudi-led coalition recaptured the city from Shia Houthi rebels last summer. On Monday, a suicide car bombing, also in Sheikh Othman, hit a gathering of loyalist forces killing four people and wounding five others. On February 17, a suicide bombing claimed by the IS killed 14 soldiers.
The IS has claimed responsibility for a wave of deadly attacks in Aden, including a suicide bombing that killed the governor and several assassination attempts on top officials.
Yemen's embattled government is based in Aden but has struggled to impose its authority since its forces, backed by Gulf Arab troops, expelled the Iran-allied Houthi fighters who still control the capital Sanaa.
(With agencies)