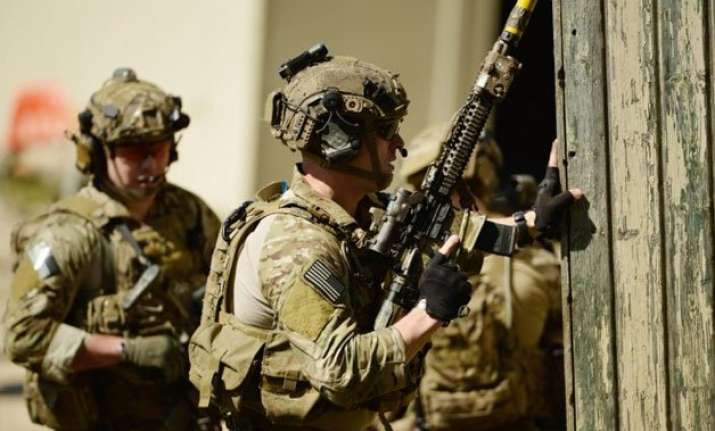 Washington: One soldier of US special operations force was killed during an overnight mission to rescue 70 hostages held by ISIS militants in northern Iraq.
The US servicemember, who died of wounds suffered during the rescue mission, was the first to be killed in action since the US-led campaign against ISIS in Iraq was launched in June 2014, a US defense official said.
Backed by US special operations forces, Kurdish troops stormed an ISIS prison in Iraq early today, freeing about 70 hostages in a high-stakes operation that left a US serviceman dead, the Pentagon said.
Pentagon press secretary Peter Cook said 5 ISIS militants were captured and others were killed in the raid on a compound near Hawijah, Iraq.
Cook said US helicopters and special operations forces accompanied Kurdish peshmerga forces to the prison compound.
"This operation was deliberately planned and launched after receiving information that the hostages faced imminent mass execution," Cook said in a statement.
"It was authorized consistent with our counter-ISIL effort to train, advise, and assist Iraqi forces," he added, using an alternate acronym for Islamic State, the militant group that has sought to carve an Islamic caliphate out of large parts of Iraq and Syria.
"Approximately 70 hostages were rescued including more than 20 members of the Iraqi security forces. Five ISIL terrorists were detained by the Iraqis and a number of ISIL terrorists were killed as well. In addition, the US recovered important intelligence about ISIL," Cook said.
General Lloyd Austin, the commander of all US forces in the Middle East, described the rescue operation as "complex and highly successful."
"We commend and congratulate the brave individuals who participated in this successful operation that saved many lives, and we deeply mourn the loss of one of our own who died while supporting his Iraqi comrades engaged in a tough fight," he said.