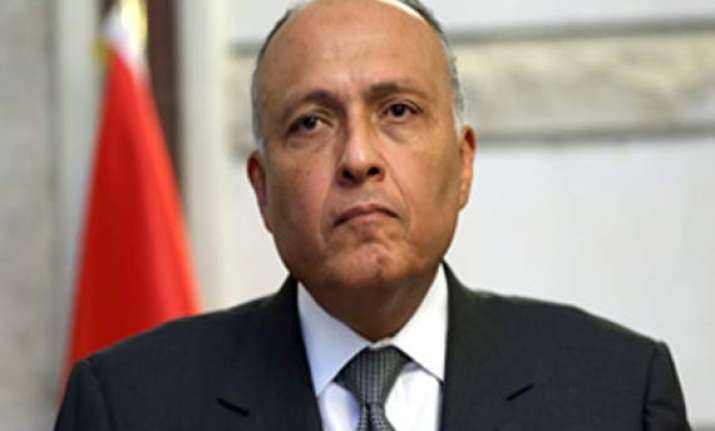 Cairo: Egyptian Foreign Minister Sameh Shukry said on Monday that Egypt has no intention to amend its ceasefire initiative proposed last week between Israel and the Gaza-ruling Hamas movement.
At a joint news conference with visiting UN Secretary-General Ban Ki-moon in Cairo, the minister said that Egypt's peacemaking bid is "comprehensive" and mainly in favour of the Palestinian people, particularly those who have been suffering a massive Israeli military strike on the Gaza Strip, Xinhua reported.
Israel's offensive against Gaza, which started July 8, has left at least 550 Palestinians killed and 3,350 injured, according to a Gaza health ministry's spokesman. Rockets fired by Hamas militants from Gaza into Israel have left two dozens of Israeli soldiers dead.
For his part, the UN chief called on both sides to stop the violence "now" without any preconditions.
"I urge all parties to stop violence unconditionally and return dialogue," Ban said, stressing that both the Palestinians and Israelis should address the real reasons of the conflict.
Ban reaffirmed his support for Egypt's ceasefire initiative offered last week, which was accepted by Israel but rejected by Hamas.
Hamas said the proposal was not comprehensive and without guarantees for ending the six-year-long Israeli blockade of the restive enclave.
Ban is currently on a regional tour that includes Egypt, Qatar, Kuwait, Jordan, Israel and the Palestinian Authority for discussions on reaching a ceasefire in the strike-stricken Gaza Strip.