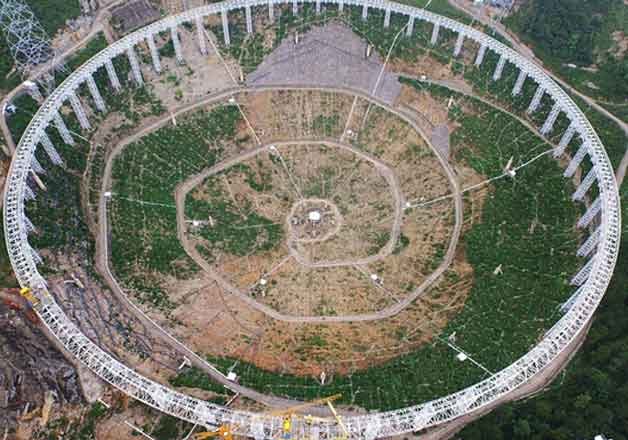 Beijing: China will displace nearly 10,000 people to facilitate an ambitious search for alien life with the world's largest radio telescope, Chinese state media reported on Tuesday.
The exploration is to begin with a five hundred-metre Aperture Spherical Radio Telescope, arguably the world's largest, is to be located between hills in the south-western province of Guizhou and is ready to start operations this year.
The radio telescope, which is some 300 metres in diameter, will cost around 1.2 billion yuan.
The evacuation is facilitated by a proposal last year by several members of the Guizhou provincial committee of the Chinese People's Political Consultative Conference (CPPCC), Xinhua news agency reported.
The proposal asked the government to relocate residents within 5 km of the 500-metre Aperture Spherical Telescope, or FAST, to create a sound electromagnetic wave environment.
The Guizhou provincial government is expected to resettle 9,110 residents in Pingtang county and Luodian County in four settlements by the end of September.
Subsidy for residents from government
Each of the involved residents will get 12,000 yuan ($1,830) subsidy from the provincial reservoir and eco-migration bureau, and each involved ethnic minority household with housing difficulties will get 10,000 yuan subsidy from the provincial ethnic and religious committee.
Construction of the FAST began in March 2011 with an investment of 1.2 billion yuan.
Upon completion, the telescope will be the world's largest of its kind, overtaking Puerto Rico's Arecibo Observatory, which is 300 metres in diameter.
(With agencies)