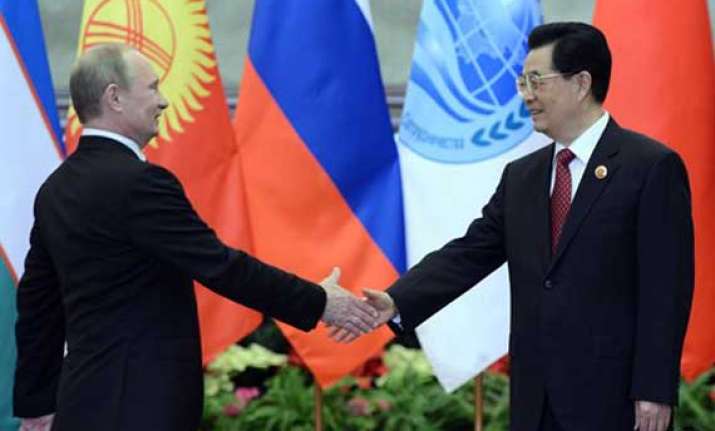 Beijing, Jun 6: Allaying apprehensions of an emerging military alliance between them, China and Russia beefed up their ties with 10 "crucial" agreements including setting up Russian nuclear plants and development of commercial aircraft and helicopters.
A closer China-Russia relationship benefits the world as well as the two nations, Chinese President Hu Jintao said playing down speculation that the two countries warmed up to deal with the new US policy to step up its military engagement in Asia-Pacific.
Russia is China's most important partner of strategic coordination and the development of relations between the two countries remains healthy and positive, Hu, who had wide ranging talks with Russian President Vladimir Putin here last night and signed a host of agreements, said.  
Putin is in China to attend the six Shanghai Cooperation Organization (SCO) member states ahead the 12th summit beginning here today.
China and Russia are the dominant members of the alliance which comprised of Central Asian states of Uzbekistan, Kazakhstan, Tajikistan and Kyrgyzstan.
China denies any efforts to convert it into a NATO style military alliance.
India, Pakistan, Iran and Mongolia are observers in the SCO.
During Hu-Putin meeting, the two sides signed more than 10 key commercial contracts including setting-up a USD 4 billion investment fund.
Putin also said the two countries are speeding up development and research on commercial aircraft and helicopters.
The commercial contracts, which Putin described as "crucial", also include Russia building two nuclear power plants in China, and more cooperation in the electricity, tourism and energy sectors.