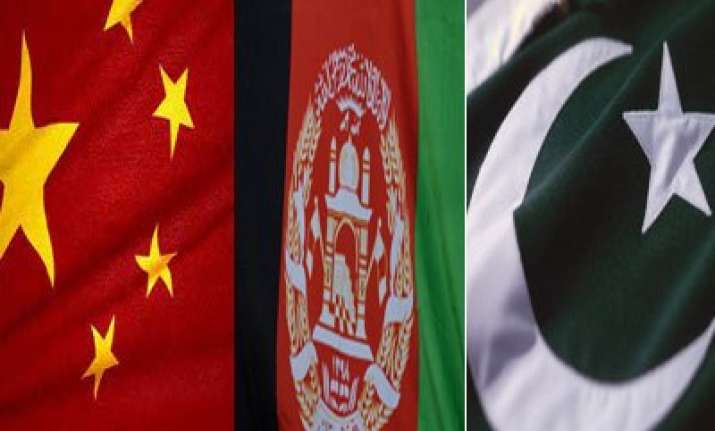 Islamabad: A China-Afghanistan-Pakistan trilateral dialogue Sunday called for further increase and strengthening of links among the three neighbouring countries to bring peace, security and stability to the region.
The two-day track 1.5 dialogue among China, Afghanistan and Pakistan was organised by Pakistan-China Institute (PCI) in collaboration with Konrad Adeneaur Stiftung in Islamabad, Xinhua reported.
The first such conference was held in Beijing in August last year under the joint auspices of China Institute of International Studies (CIIS) and the PCI.
Chinese Ambassador to Pakistan Sun Weidong, Afghan Ambassador to Pakistan Janan Mosazai, Chairman of the PCI Senator Mushahid Hussain, and other strategists, academicians, diplomats and foreign relations experts attended the dialogue to discuss the current security and political situation in Afghanistan and its implications for neighbouring countries.
The participants and speakers discussed different strategic issues to draw a roadmap for the future and to seek regional cooperation on Afghanistan.
In his welcome address, Mushahid Hussain said: "This is the 'Asian Century' and Asian countries must decide their own destinies, which are interlinked, together through consensus and consultation."
Terming it a unique initiative that can bring the three neighbours closer together, Hussain said it was an important time and opportunity to bring forward specific policy recommendations for peace and security, regional economic cooperation and combating terrorism, extremism and drug trafficking.
Addressing the inaugural ceremony, Chinese Ambassador Sun Weidong said it was an important platform for the three countries to strengthen communication and cooperation on regional affairs.
Urging the international community to support Afghanistan, Ambassador Sun said China hoped that international cooperation would be helpful for Afghanistan's independence, sovereignty, territorial integrity and the smooth transition.
Commending Pakistan's counter-terrorism efforts and its role in regional affairs, Sun said China appreciated Pakistan's steps to promote dialogue and improve relations with Afghanistan.
A statement from the PCI said cooperation between Pakistan, China and Afghanistan would form the crux of the tripartite initiative which was the core objective of the dialogue.
Particular areas of concern that will be addressed in the two-day conference include the presence of refugees in Pakistan, cross-border terrorist movement, the capacity of the Afghan national security forces, protection of foreign investments in Afghanistan and the role of the regional countries in promoting peace, stability and security in Afghanistan and the region.
On the occasion, Afghan Ambassador Janan Mosazai assured that Afghanistan would never allow its soil to be used against peace, security and stability of its neighbours.
Aiming to use the platform of the trilateral dialogue, Ambassador Mosazai wished to further deepen the relations with their "traditional friend" China that is also the largest investor in Afghanistan.